24. September 2019 — Press Release
24.09.2019 — خبر صحفى
World leaders rally behind need for UN Emergency Declaration for Nature and People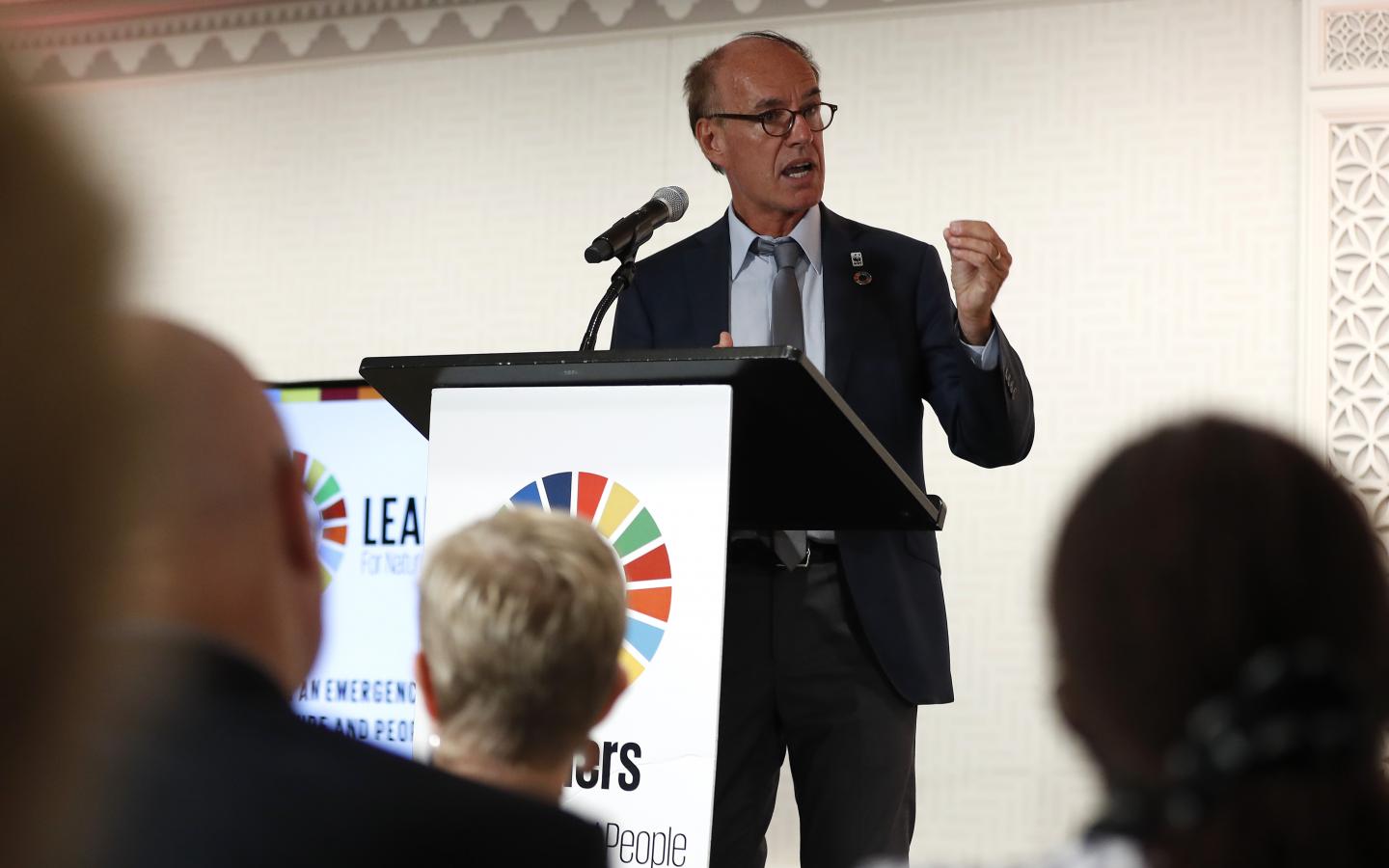 New York, United States (23 September 2019): On the evening of the United Nations Secretary General's Climate Action Summit, leaders spanning four continents pledged their commitment to addressing the climate crisis and mounting threats to global biodiversity.
At a high-level event convened by global conservation organization WWF to support a UN Emergency Declaration for Nature and People, ten Heads of State and Government reinforced the need for political, business and civil society leaders to unite behind securing ambitious outcomes for climate, nature, and people.
The science is clear -- our planet is in crisis. The impact of climate change is already being felt by communities globally, and our overexploitation of natural resources is pushing nature to the brink. Since 1970, wildlife populations have declined on average by 60%.
WWF and many others are calling for an Emergency Declaration for Nature and People to be signed at the UN in 2020, with the aim of securing a sustainable future for people and nature. Signed by Heads of State and Government, a declaration would provide the necessary political drive to make 2020 a turning point for people and planet, with nations taking individual responsibility for their global environmental impact.
Marco Lambertini, Director General of WWF International, said:
"We will only be able to tackle our interrelated climate and nature crises through concerted action from governments, businesses and civil society. This meeting of Heads of State at the UN General Assembly to publicly support the need for an Emergency Declaration for Nature and People is hugely important progress. The ambition the globe's political leadership is showing today sends a signal to countries and markets that a radical transformation, one that places sustainability at the core of our societies and economies, is the need of the hour.
"2020 represents an unmissable opportunity to place nature at the heart of key international treaties and ensure a sustainable future for people and nature. Combating nature loss is also essential to meeting the Sustainable Development Goals. We expect these countries to champion these efforts and place their political weight behind the need for the UN to make an Emergency Declaration for Nature and People at next year's General Assembly."
2020 is a critical year for the planet. Next year, an agreement on a new global biodiversity framework, action on climate change, a treaty for the oceans, and a renewed commitment to the environment under the Sustainable Development Goals will be negotiated. A video address by Sir David Attenborough urged world leaders to seize the moment and inspire others in the months ahead. A Declaration would provide the political momentum for these critical UN decisions, which will set the agenda for decades to come.
Lambertini added:
"This UN General Assembly comes at a crucial time for our planet. The science is clear - 'business as usual' is no longer an option if we are to safeguard our future. Our living planet is in the red and never before has the threat of irreversible damage been so close or so stark. We now have a unique opportunity to take decisive and urgent action to restore nature, stop devastating climate breakdown and promote human well-being. In 2020, the world needs to see united political commitment from world leaders towards addressing the Planetary Emergency and securing ambitious outcomes for climate, nature, and people."