29. November 2021 — Press Release
29.11.2021 — خبر صحفى
Emirates Nature-WWF drives 'Leaders of Change' Mission, set to Mobilize the UAE Community to take Collaborative Conservation Action for the Next 50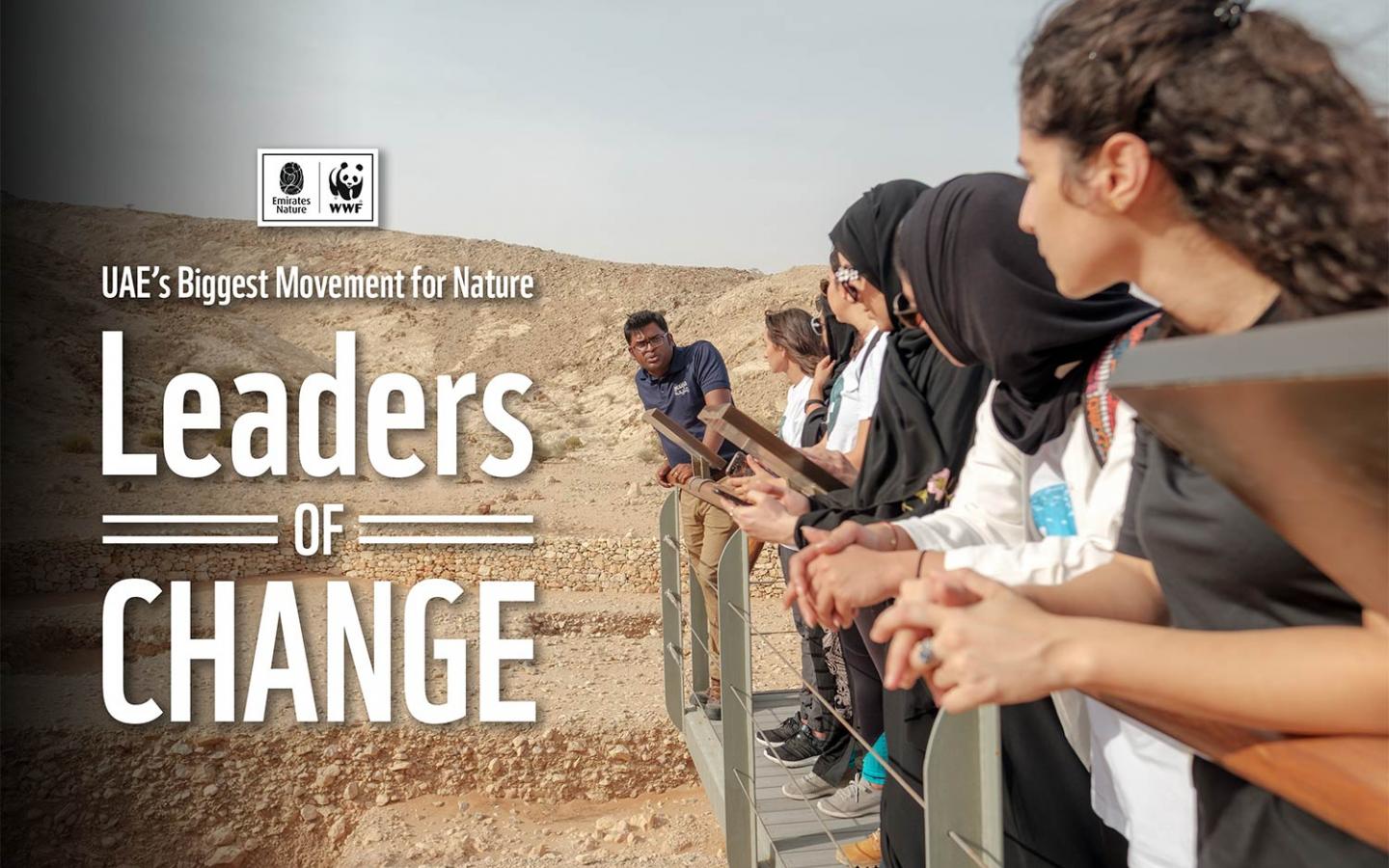 Emirates Nature-WWF, the grassroots non-profit organization, celebrates two decades of successful environmental conservation in the UAE
'Leaders of Change' calls on the UAE community to join the organization and take a hands-on collaborative approach to conservation action for the Next 50 years of the UAE
Volunteers will make personal and societal transformational impact through skills training, ideating solutions and taking action in nature, through on-the-ground activities
Dubai, UAE, 29th November 2021: Emirates Nature-WWF, the grassroots non-profit organisation established to drive positive change in the UAE, has announced the 'Leaders of Change' mission in celebration of its 20 years of positive action to protect and preserve the country's natural environment. 'Leaders of Change' is an innovative new approach to environmental conservation, mobilizing people, businesses and government entities across the UAE to participate in creating transformative impact at scale for people and the planet. It is a movement, open to all facets of society, to put nature first and embed a spirit of conservation and sustainability within us all.
A bold and daring first for the WWF global network, which has a 60-year legacy and is supported by more than five million people worldwide, 'Leaders of Change' will bring to the table a rich diversity of culture, lived experiences and insights to restore the relationship between people and planet. Changemakers of all ages and backgrounds will work together to master the issues, co-create solutions and take action for nature, in nature. A state-of-the-art digital platform allows participants to choose from a range of certified training and development opportunities, solutions-oriented dialogues and in-the-field activities with Emirates Nature-WWF conservation experts, all while tracking their annual journeys and impact for the environment through personally designed dashboards.
Laila Mostafa Abdullatif, Director General of Emirates Nature-WWF, said: "After two decades of efforts to protect the environment, we have many successes to celebrate, countless proud memories, and thousands of supporters to thank. However, there are still mighty challenges to overcome, and we believe that together, we can rise to those challenges. We are therefore calling on thousands of changemakers to join us and work towards a sustainable and prosperous tomorrow."
This collaborative conservation in action approach is set to mobilize civil society, and contribute to the conservation blueprint of the UAE for the next 50 years. Young changemakers and members of the public are discussing key issues with government ministers, adding their voice to the policy and system change decisions. Corporates and government employees are upskilling themselves to support sustainable development, the pathway to net zero, integrating nature-first solutions and transforming their organisations from within – inlight of the global climate summit Conference of the Parties (COP 28) which will be hosted in Abu Dhabi in 2023, and the UAE NET ZERO mandate by 2050.
"The scale and opportunity for volunteers to get involved in conservation through Emirates Nature-WWF's 'Leaders of Change' is unprecedented in the UAE. Through this programme volunteers are hiking across the UAE and mapping the UAE's rich diversity, engaging in citizen science – making observations of wildlife, learning about our natural heritage from community elders, facilitating the circular economy, and are ultimately creating the foundation of the green economy through market transformation. I encourage everyone to get involved with these critical activities by signing up through the 'Leaders of Change' digital platform," she added.
To support the launch of 'Leaders of Change', Emirates Nature-WWF has embarked on a poignant and thought-provoking campaign to drive community engagement and participation with the hopes of encouraging people, and institutions, to partake in nature and biodiversity conservation, thereby embedding a common spirit within to improve the health of our planet and all people living on it. Those interested can view the first phase of the campaign here.
Laila added: "As part of the campaign, we are inviting our partners, our supporters and the community to join us in celebrating the milestones they all helped us to achieve over the past two decades. Their support and contributions have been instrumental as we preserve the UAE's natural heritage. Together, we have and continue to achieve science-based solutions to combat climate change and safeguard the seas, the land and their associated biodiversity. We look forward to celebrating the UAE's golden jubilee this year and can't wait to co-create the future of conservation and sustainable development in the next 50 years."
Over the years, Emirates Nature-WWF have achieved a number of significant milestones in service of the UAE's environment, with the strong support of government agencies, businesses, organisations and civil society. Together they have mapped 783km2 of coastal and marine habitats across the UAE, which is the equivalent to more than 3 times the size of the emirate of Sharjah. They have also identified areas that require official protection and are contributing to national conservation policies, in addition to convening a plastic packaging recovery committee and identifying opportunities and mechanisms to establish a circular economy for plastic in the UAE.
In two decades, they have connected over 10,000 youth in the UAE with nature across more than 225 events, and through their youth initiative Connect with Nature, UAE youth spent 12,245 hours with nature. Through the ecological footprint initiative, Emirates Nature-WWF and key senior government partners achieved an estimated reduction in CO2 emissions of 1,000,000 tonnes per year through the implementation of the indoor lighting standard.
Initiatives like these, and many others, are driven and supported by the many individuals and organisations that give their time and resources to ensure their success. Interested readers who are keen to embody the new spirit of collaborative conservation for the UAE, and corporate and government entities are looking to onboard and track employees sustainability journeys, can join the movement for nature at www.volunteer.emiratesnaturewwf.ae