18. December 2018 — Press Release
18.12.2018 — خبر صحفى
Emirates Nature-WWF decorates Kite Beach with inspiring sand story in celebration of the 47th National Day
December 3, 2018 – Abu Dhabi, UAE: Emirates Nature-WWF yesterday celebrated the UAE's 47th National Day with a sand story activation titled #HisLegacyOurFuture at Kite Beach, showcasing Sheikh Zayed's environmental legacy, and the importance of connecting with nature. The shore-side activation highlighted the late founding father Sheikh Zayed bin Sultan Al Nahyan's legacy and vision for a sustainable UAE. In the spirit of National Day, families and friends gathered to enjoy the awe-inspiring activation that showcased Emirates Nature-WWF's ongoing efforts to ensure our society, economy and environment thrive side by side, enabling people to live in harmony with nature.

The educational heritage boards shed light on four species indigenous to the UAE including the Arabian spotted eagle owl, caracal, Arabian humpback whale and the Green turtle which are rrepresentative of Emirate's Nature ongoing work on the Sir Bu Nair Island and the Hajar mountains. Moreover, the activation encouraged visitors to take part in raising awareness on why #NatureMatters and the importance of conserving the environment by taking simple steps to continue Sheikh Zayed's sustainability-conscious journey.

The sand story activation was crafted by Filipino artist, Nathaniel Alapide who has four years of experience working with natural elements including sand, water, and a single metal rake to create his masterpieces. Beach-goers interacted with the activation and captured selfies to express their love for the environment during their visit.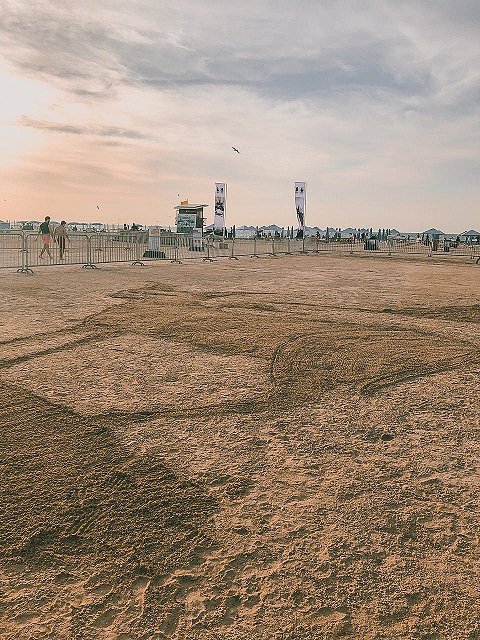 Commenting on the activation, Laila Mostafa Abdullatif, Director General of Emirates Nature-WWF, "On this special day, we celebrate the 47th anniversary of the establishment of our nation and the union of the people of the Emirates. We send our warmest congratulations to the state, and will continue to encourage and support the UAE in delivering sustainable solutions on a local, regional, and global level."

"We are committed to fostering a community whose members encourage sustainable choices in their everyday lives, and are honoured to work alongside Kite Beach on this informative and inspiring sand art activation, which served to remind each participant of the imperative role they must play, and that only together will success be possible. These efforts will soon be complemented with the launch of a new co-created Education Programme with our long standing partner, Environment Agency-Abu Dhabi, which aims to inspire and empower the youth to strive for environmental sustainability in the UAE", Abdullatif added.

Over the past four decades, the world has witnessed a 60 percent decline in wildlife across land, sea and freshwater and is heading towards a shocking decline of two thirds by 2020. The UAE has been paying special attention to biodiversity from early on, and is committed to establishing and expanding protected areas, protecting breeding and reintroducing endangered species into their natural habitats. Emirates Nature-WWF strives to remind the society that all of nature is connected, and if one element is not protected or managed sustainably then the chain is broken. To further support the UAE's ongoing efforts in preserving its rich biodiversity and ecosystems, Emirates Nature-WWF has been working alongside its partners for several years by informing policies and providing them with robust scientific data, driving community and corporate engagement, and raising public awareness.