09. July 2020 — Press Release
09.07.2020 — خبر صحفى
'Youth's thirst for knowledge offers encouraging signs for the future of conservation'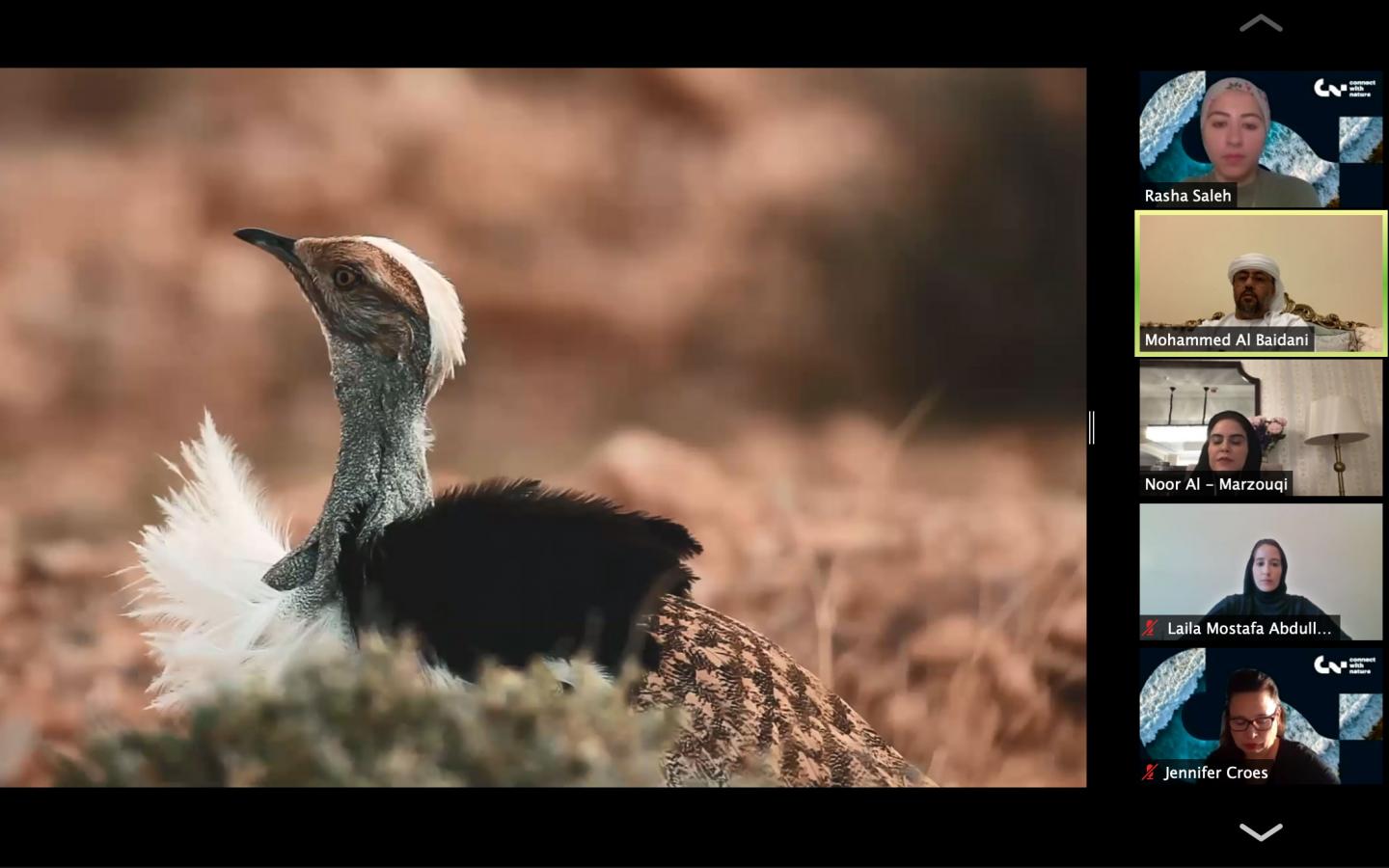 By Mohammed Saleh Al Baidani, Director General, IFHC
The past few months have been challenging on so many fronts. However, many positives have emerged during that time including a real thirst for knowledge, a willingness to share and desire to connect and learn.
Which is why it was a privilege to engage with some of the UAE's brightest minds at the Connect with Nature's 'Reimagine' Youth Circle Series session, titled 'Learning from the past, saving for the future'. The International Fund for Houbara Conservation (IFHC) places great value in its strategic partnership with Connect with Nature and collaborating on the Youth Circle, which is a great vehicle to give the country's young people a voice. As the change-makers for tomorrow's world and future guardians of the environment, it is vitally important that they are heard.
IFHC is the global leader in pre-emptive species conservation, with a vision to secure maximum sustainable wild Houbara populations within an ecosystem's carrying capacity. To this end, education is one of our strategic pillars with our goal to shape the conservation leaders of tomorrow by raising awareness of the importance of protecting the environment to safeguard the future of iconic and vulnerable species such as the Houbara bustard.
Partnering with Connect with Nature gives us direct access to this influential audience group and completes our 360-degree approach to conservation education. We are a recognised partner of the UAE Ministry of Education (MoE), our education programme 'Conservation Education: the Houbara Model' is integrated into the national curriculum. It is a cross-curricular programme designed to educate students on the Houbara, its habitat and importance to the ecosystem and UAE heritage. It follows a blended learning model, equipping learners with 21st century skills.
We have witnessed tremendous enthusiasm from students and teachers to engage in the programme and the Connect with Nature Youth Circle session was equally encouraging and insightful. In sharing our conservation success story it was especially pleasing to witness the level of environmental awareness and desire to affect change from a group of people who could be easily forgiven if they chose to focus purely on the economic outlook post the COVID-19 pandemic, given the extraordinary situation we have all endured.
We enjoyed a lively discussion with more than 200 young people who showed a keen interest in the work we do at the Fund and how they can get involved in conservation activity to protect the ecosystem and UAE heritage. Much like the fight against the pandemic, there was a genuine feeling amongst the Youth Circle participants that when it comes to conservation, we are all in it together and that small actions of an individual can help in making a big difference.
The discussion was uplifting with the group showing a genuine desire to protect culture and heritage. The session also highlighted that more needs to be done to find collective actions and promote health lifestyle choices for a sustainable and thriving society. Rather than an act of social responsibility, conservation should be a culture that can be passed down to generation after generation. The youth can play an important role by motivating their peers and those within their spheres of influence.
In highlighting the important role the Houbara plays in the regional ecosystem and levels of biodiversity in a myriad countries across the species migratory range during our discussion, it was pleasing to witness how receptive the audience was to assisting the Fund's efforts to ensure a sustainable future for the Houbara and its natural habitat.
Similarly, in demonstrating the intrinsic link between the Houbara and elements of Arabian culture such as the heritage sport falconry – without Houbara, falconry would not be possible – there was a desire from the audience to help raise awareness levels in their spheres of influence.
Over the past 40 years, we have collated an abundance of scientific research to be able to make significant breakthroughs in our vision to ensure maximum sustainable Houbara populations in the wild. It is important that we keep educating the youth to realise that vision.
This session demonstrated we are on the right path. Collectively we can ensure a sustainable future; we are in this together.