21. July 2020 — Press Release
21.07.2020 — خبر صحفى
Learning from Past Traditions, Saving for the Future, Time to learn from nature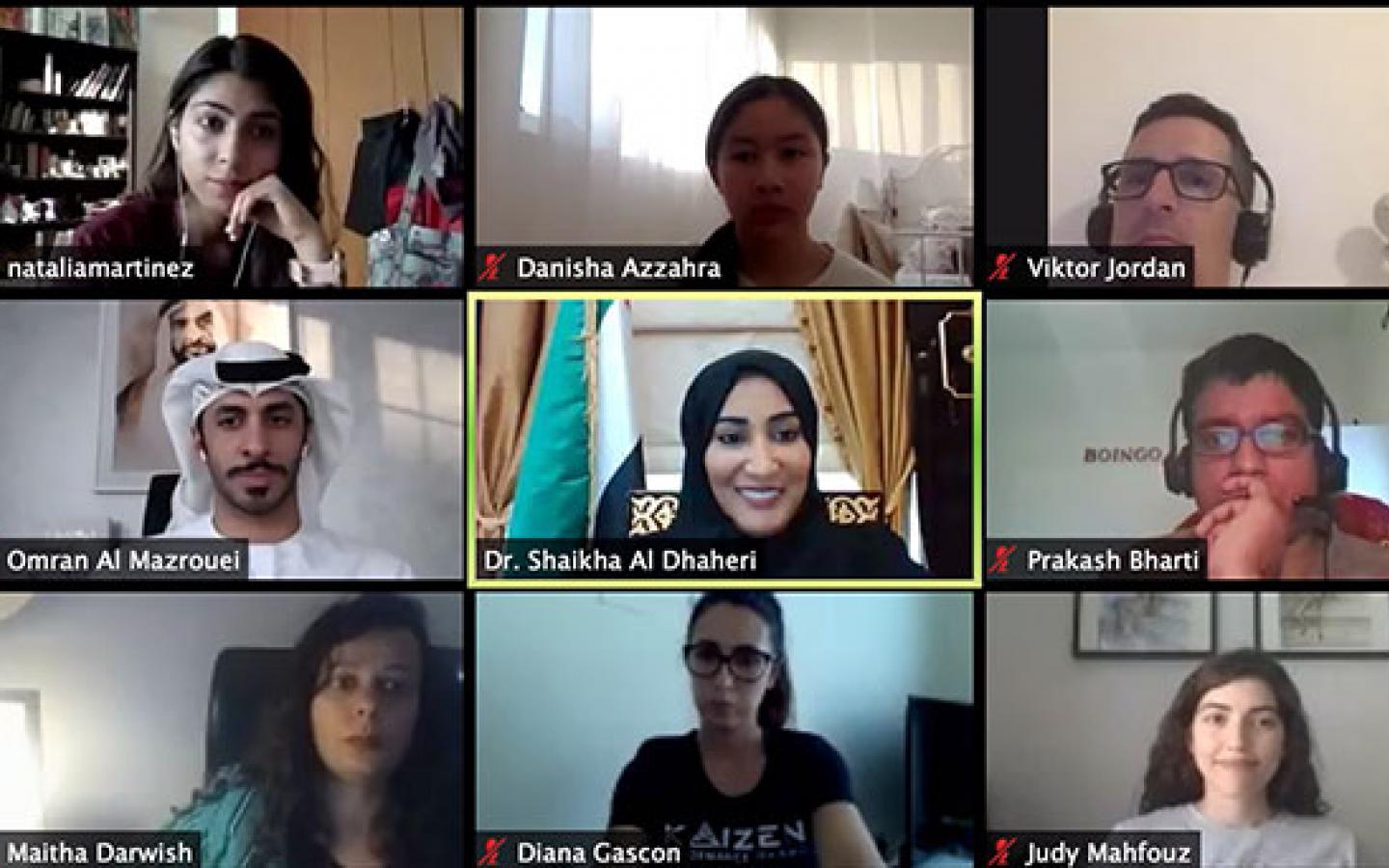 H.E Dr. Shaikha Salem Al Dhaheri, Secretary General of the Environment Agency – Abu Dhabi shares her insights following a Connect with Nature 'Reimagine' Youth Circle
I had the opportunity to speak with over 200 young people from the UAE a few days ago, as part of a remarkable initiative organized by Connect with Nature, to encourage youth to reimagine life post-COVID. The Reimagine Youth Circle Series is an opportunity for young people to work together with decision makers in the government and private sectors, to drive change.
As a mother of five young boys myself, I found the session with the youth, interesting and engaging. The discussion on 'Learning from the Past, Saving for the Future' focused on how to balance modern life while keeping Emirati traditions alive and protecting the integrity of our ecosystems. This is something very close to my heart and I hope that the younger generation not only understands it, but takes responsibility to protect our natural and cultural heritage.
Lessons of Life
On a more personal note, my own relationship with nature started at an early age as I grew up watching my father who, to me, was a naturalist in his own right. The way he took care of our plants in excessive heat and humidity taught me three lessons. Lesson one: I learnt the importance of resources and how the judicious use of resources can make a difference and possibly have implications on survivability. Lesson two: I learnt to appreciate the fine balance that exists in nature and how tampering with one could significantly alter the balance and impact the health and wellbeing of others. The third lesson that I learnt from father is the value of hard work and how ones' own efforts can make a big difference.
These were invaluable lessons which continue to guide me, both in my work and in my personal life, and I try to pass on these lessons to my children. We all have in our own ways this wonderful opportunity to learn from our elders which will not only define who we are, but also what we do as individuals, communities and societies.
Leadership that values nature and culture
I am blessed to be born in a country where its leaders value culture and traditions as much as they value development. If I learnt something from my father, I also learnt a lot from our father of the nation, the late Sheikh Zayed. He was not only a great visionary but also a passionate naturalist who left a lasting impression on our Emirati national and cultural identity.
We take lot of pride in our traditions and ensuring that this intangible cultural heritage is preserved for posterity. From falconry to hunting with saluki dogs, camel racing and pearling – these are all part of our natural and cultural heritage. Thanks to the efforts of the UAE, Falconry was recognised as an Intangible Cultural Heritage by UNESCO in 2010.
Water is one of the most precious natural resources in our part of the world. The traditional irrigation system called 'Aflaj Irrigation' and the example in Al Ain is one of the oldest, dating from 3,000 years ago. Sheikh Zayed himself cared for them and even helped dig some of them when the system was renovated in 1946. Much of Al Ain's greenery is also attributed to these Aflaj systems and is one of the best examples of our natural heritage linked to the preservation of an important natural resource.
Preserving traditional knowledge
Traditional knowledge and practices are important elements of our approach to address some of the most pressing environmental issues locally, such as over exploited fisheries and overgrazing by camels. At the Environment Agency – Abu Dhabi (EAD) we have made concerted efforts to accumulate knowledge possessed by fishermen and herders to understand those crucial links and integrate it with our scientific understanding of the issues.
The government last week issued Law No. (11) of 2020 to regulate grazing in Abu Dhabi and preserve natural areas, superseding Law No. (13) 2005. We will continue to engage and work with communities and our partners to encourage camel farm owners to return to more traditional practices of grazing which will allow natural regeneration and sustained opportunities for grazing.
The past is, after all, part of our identity and we must try to protect it. There is vast knowledge and wisdom that has been collected over generations of living closely with nature, wisdom that needs to be shared and passed on.
Protecting our natural heritage
If our leaders aspired and made efforts to protect our various forms of cultural heritage, they were also instrumental is undertaking initiatives which led to the preservation of our natural heritage. The story of the Arabian Oryx is one of the best examples; a species almost hunted to near extinction has been revived through the pioneering initiatives of the late Sheikh Zayed. It was his foresight that saw two of the last few remaining individuals being sent to the US to initiate a captive breeding programme. Today, there are nearly 5,000 Arabian Oryx in Abu Dhabi alone, including over 850 that roam freely in the Arabian Oryx Protected Area in Abu Dhabi.
Another story that is particularly close to my heart is the creation of Al Wathba Wetland Reserve. The accidental release of a small amount of water from the nearby sewerage treatment plant attracted some bird species, including flamingos, which was followed by a few failed breeding attempts. The late Sheikh Zayed ordered the area to be protected by the Abu Dhabi Police and to be managed by us at EAD. Today, the reserve is the only breeding site for flamingos in the Arabian Gulf and recognised globally as Ramsar Site by the Ramsar Convention and on the green list of the International Union for Conservation of Nature's (IUCN).
Connecting with nature and culture
We live in an interconnected world and one of the best ways to see that interconnectedness is to be with nature. Connecting with nature allows us to appreciate interrelationships, as every single organism, big or small, interacts directly or indirectly with other elements of that ecosystem. It is time we learn to appreciate the delicate balance that exists and how often unmindful human activities can disrupt it.
At EAD we are trying to do just that – to maintain that balance by protecting all elements of our environment. Our network of 19 protected areas under the Shaikh Zayed Protected Area network protects some of the most iconic species ranging from the Arabian Oryx, to the Houbara to Dugongs, turtles and flamingos, coral reefs and even small insect species.
We at EAD can provide all the information and tools that one needs to learn and act regarding the environment, but individual contributions are equally important. One day our generation will retire, and it will be up to the youth of today to step in.
The current generation and particularly the youth have a big responsibility to learn about our nature and our culture and how to pass this knowledge on to the next generation. They have the intelligence and access to the most advanced technologies, and I am confident that they will shoulder this responsibility well.
It is time for all of us to connect with nature and our heritage. Nature is enriching and uplifting. It uplifts our spirits, provides inspiration and teaches us a lesson or two, the way I learnt some lessons when I connected with nature a few decades ago!