04. August 2023 — Press Release
04.08.2023 — خبر صحفى
UAE Launches Search For Youth Ambassadors To Champion Nature At COP28 And Beyond
UAE citizens and residents between the ages of 18 to 35 are invited to participate in a series of e-learning activities and exclusive nature-based field trips to develop environmental conservation and leadership skills
Participants have the chance to be selected as new Ambassadors for Nature and represent the youth voice at national and international events including COP28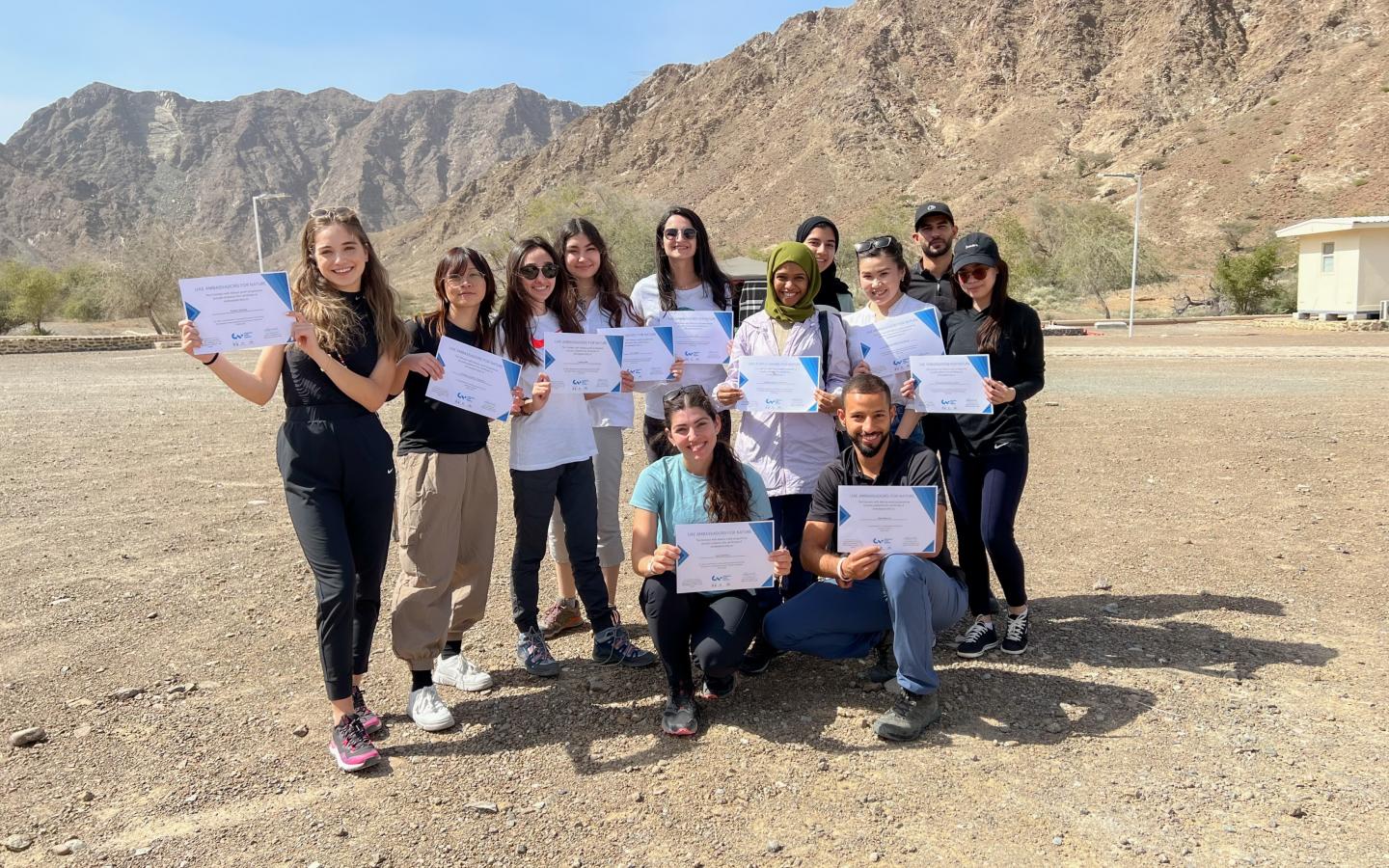 ​​​​​​Abu Dhabi, 04 August 2023: In the Year of Sustainability and UAE hosting of the COP28, the Environment Agency – Abu Dhabi (EAD) and Emirates Nature-WWF are expanding on the success of their youth empowerment movement with the launch of the second edition of Ambassadors for Nature Programme.
The nationwide search for youth changemakers calls upon individuals aged 18 to 35 to explore their passion for nature and unlock opportunities to develop new skills in the lead up to COP28 and beyond. Taking place in Dubai later this year, the global climate conference provides an opportune platform for this second cohort of Ambassadors for Nature to kickstart their leadership journey and share innovative solutions for climate and nature.
Ambassadors for Nature is part of the wider COP28 Youth Climate and Nature Series which aims to ensure a legacy beyond COP28 in which members of the wider community are aware of and involved in large-scale conservation programmes. Developed under the leadership of EAD in collaboration with Emirates Nature-WWF, the youth and community engagement strategy was launched in line with the celebration of the World Environment Day and inspires thousands of participants to take action for nature through innovative programmes such as a mangrove-themed escape room.
Ahmed Baharoon, Executive Director of Environment Information, Science Outreach Management Sector at EAD said: "Collaboration is the key to success in environmental conservation. Innovative programmes like Ambassadors for Nature open doors for UAE youth and members of society who are keen to pursue their passion for nature but unsure of where to start and how they can ensure a meaningful impact. We are excited to launch our search for the second cohort of Ambassadors for Nature and look forward to learning their vision for the future."
"We envision a society filled with empowered youth who are well aware of the complex environmental challenges our planet faces and well-equipped to respond with a diverse portfolio of creative and innovative solutions," said Laila Mostafa Abdullatif, Director General of Emirates Nature-WWF. "Today's youth have demonstrated that they are passionate and capable of shaping an optimistic future. It is our responsibility to support them in fulfilling this vision, through initiatives like Ambassadors for Nature which provide hands-on learning, purpose-driven training and opportunities to be heard."
Develop New Skills and Explore Nature for Free
To prepare young people to succeed as future leaders and changemakers, EAD and Emirates Nature-WWF are organizing a series of free e-learning and training sessions in which environmental experts will cover important topics around climate change and nature loss – two of the most pressing threats to people and planet. Youth will also have the chance to learn from the personal experiences of 'Youth Insiders' who are already working to advance green solutions in the UAE.
In addition, to learning new skills, it is critical for youth to connect with nature and experience conservation on the ground. Participants will have the opportunity to join exclusive field trips organized by conservation experts such as the planting of mangrove saplings to restore coastal wetlands, as well as the exciting Nature at Night excursion where they will monitor the UAE's unique and diverse wildlife as citizen scientists.
These activities enable participants to experience the science behind climate action and Nature-based Solutions, whilst also contributing to the vital conservation work implemented by EAD and Emirates Nature-WWF in alignment with national objectives.
All training sessions and field trips, accessible through the Connect with Nature App, are free-of-charge and will take place during July, August and September 2023. It is not mandatory to attend these sessions to apply for the role of Ambassador of Nature – youth can demonstrate their knowledge and commitment to nature via other mechanisms outlined in the application process.
Become an Ambassador for Nature
The first cohort of youth Ambassadors for Nature was announced in 2020, after completing intensive training. These homegrown heroes impressed UAE decision makers across government and the private sector during the Connect with Nature Reimagine Youth Circle series with their grasp of environmental issues and their clarity on the solutions required to build a nature-positive future. They have since championed sustainability within their communities and advocated for nature at high-profile regional and global events such as the UN Biodiversity Conference (COP15), Stockholm+50, EXPO 2020 and COP27.
Ayesha Al Shehiari who was amongst the first cohort of Ambassadors for Nature commented: "As a passionate environmentalist, the UAE nature ambassador has been a transformational. Through immersive experiences in pristine natural environments and engaging with environmental experts, I have gained a deep appreciation for nature and its conservation. This program has empowered me to become an advocate for our planet, inspiring others to protect and preserve our precious ecosystems."
Hannah Melville-Rea shared her experience as an Ambassador for Nature commented: "During my time as an Ambassador, engaging with 1,600 youth in virtual discussions on the potential for a nature‑based COVID recovery was particularly empowering. Having the opportunity to present the 'Reimagine' Youth Circle White Paper to UAE ministers deepened my interest in working with government leaders to advance climate policies."
Tamara Arbid reflected on how the experience shaped here future outlook: "My environmental journey began over 10 years ago and continues with the knowledge and experience that the ambassador program provided me with. It has opened my eyes as to what I would rather be doing in terms of career path, and it has opened the doors to several CSR and sustainability related opportunities otherwise."
Applicants who are selected to become Ambassadors for Nature in 2023 will join this group of elite UAE youth leaders and changemakers in innovating solutions and ensuring the youth voice is heard by regional and global stakeholders. New Ambassadors will undergo advanced training and gain access to mentorship and additional resources required to fulfil their vision for nature.
How to Apply
To apply for the esteemed and voluntary role of Ambassador for Nature, applicants must fulfill the following criteria by end of October 2023:
Be UAE citizens or residents between the ages of 18-35 at the time of applying

Demonstrate prior engagement with nature, by showcasing active participation and learning

Achieve a score of 75% or above in an online assessment quiz

Submit a 1-minute video on what they hope to accomplish in this role and how they will inspire their communities to take action for nature
For more details and to apply to become an Ambassador for Nature, visit connectwithnature.ae or download the Connect with Nature mobile app.
For youth, by youth
Shortlisted applicants will be invited to interview with a selection committee comprised of representatives from EAD and Emirates Nature-WWF as well as a Youth Insider and a previous Ambassador for Nature. The inclusion of prominent youth leaders in the selection process ensures that the second cohort are shaped by youth and representative of youth priorities.
The 2023 Ambassadors for Nature will be announced in November. They will undergo a 3-day training programme which will conclude with a special conservation field trip and then embark on their one-year tenure as ambassadors.
Priority will be given for youth who are already engaged in existing EAD and Emirates Nature-WWF youth programmes such as the Green Youth Majlis and Connect with Nature members.