20. December 2018 — Press Release
20.12.2018 — خبر صحفى
EAD, Emirates Nature-WWF and IFHC Join Forces on New Youth Environmental Initiative
'Connect with Nature' to launch at Umm Al Emarat Park in January 2019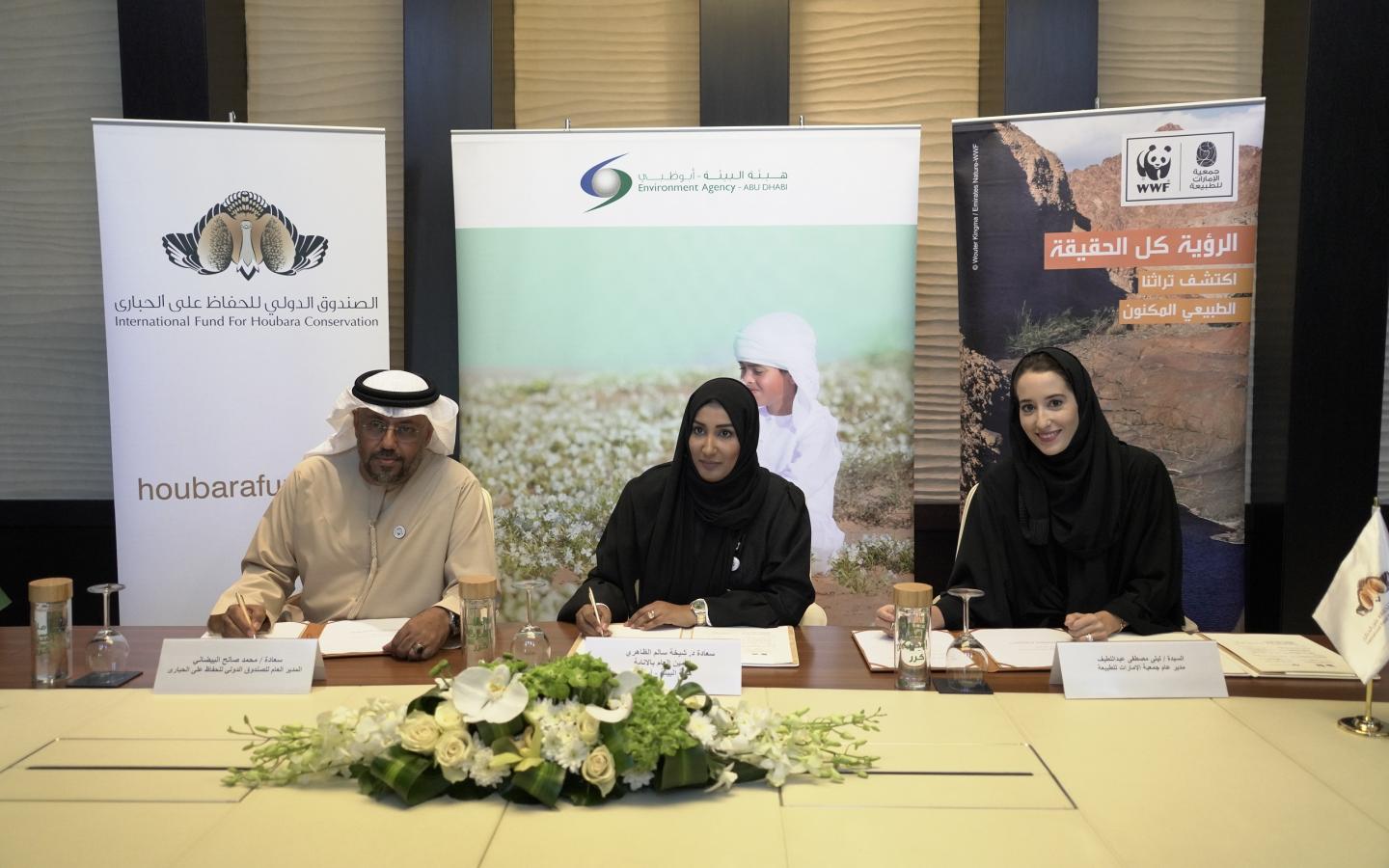 Abu Dhabi, UAE - 20 December 2018: The Environment Agency - Abu Dhabi (EAD), Emirates Nature-WWF and the International Fund for Houbara Conservation (IFHC) have officially announced their partnership on Connect with Nature – an interactive new environmental education and awareness programme geared at inspiring and encouraging youth in the UAE to explore the country's natural heritage.
The agreement was signed today by H.E. Dr. Shaikha Salem Al Dhaheri - Acting Secretary General of EAD, Laila Mostafa Abdullatif - Director General at Emirates Nature-WWF, and Mohammed Saleh Al Baidani - Director General of IFHC. Connect with Nature will be rolled out at a federal level starting 19 January 2019, with the ultimate goal of equipping young Emiratis with the particular experiences, knowledge and skills that will enable them to become the next generation of changemakers and environmental leaders.
Connect with Nature has built three distinct pillars to pave the way for positive behavioural change: Explore, where youth can unlock the mysteries of the natural world through experiences in nature, both on and off-line across 30 select locations in  the UAE, including Al Wathba Wetland Reserve, Saadiyat Marine National Park and Al Qudra Lake; Empower, where they can increase their knowledge of the environment through advanced learning opportunities; and Engage, where informed, confident youth are provided opportunities to inspire action and change and become future leaders.
"The UAE is one of the most unique and diverse natural geographies in the world, characterised by its distinct desert environment and native wildlife," said HE Dr. Shaikha Al Dhaheri. "The Environment Agency – Abu Dhabi is very proud to collaborate with Emirates Nature-WWF and the International Fund for Houbara Conservation on this dynamic initiative. Connect with Nature will prompt more young people to discover our nation's hidden treasures off the beaten track, as well motivate them to contribute towards proactive efforts in the protection and preservation of our environment. The programme will also build on our collective efforts to instil a profound respect for the environment among the younger generations, who will ultimately be responsible for driving the sustainable growth of our nation, and beyond."
Commenting on the partnership, Laila Mostafa Abdullatif, Director-General of Emirates Nature-WWF, said, "We are incredibly excited and humbled to work alongside our long-standing partners, The Environment Agency – Abu Dhabi and the International Fund for Houbara Conservation (IFHC) to launch the Connect with Nature programme. This truly iconic and innovative education initiative aims to bring to life a special journey where youth can discover the magic of nature around them while taking ownership of their conservation efforts. Through the programme, we aim to equip youth with the experiences, knowledge, skills, and platforms to be able to continue the environmental legacy of our late founding father, Sheikh Zayed bin Sultan Al Nahyan."
"We place great value on the importance of empowering the leaders of tomorrow, and recognize the imminent need for Emirati youth to re-connect to their natural heritage, and protect the UAE's rich biodiversity and many unique habitats. It is our duty to invoke a sense of community responsibility amongst the next generation of environmental ambassadors to drive change not only locally, but globally as well." she continued.
Mohammed Saleh Al Baidani, Director General of IFHC, said: "This is an exciting initiative of UAE partners, which takes forward the Leadership's priorities of education and the environment. The Houbara is an iconic species to the heritage of the UAE and conserving it for future generations is IFHC's overriding objective. By introducing the young people of today to our wondrous natural environment and the beauty it contains, we can inspire the environmental leaders of tomorrow. In coming together, we promote the best of the UAE, while also providing young Emiratis with the skills to continue the work of the late Sheikh Zayed: a very real legacy to his inspiration."
The programme aims to increase environmental awareness among the local youth community aged between 15 and 24 years and build a public movement of change through engagement and outreach activities, while fostering and nurturing a respect and appreciation for nature. This will, in turn, promote a better understanding of environmental conservation and sustainable living in the UAE as well. Further details and updates on Connect with Nature are being shared online on social media.