24. March 2019 — Press Release
24.03.2019 — خبر صحفى
Emirates Nature-WWF urges the UAE community to set their promises to save the planet
Earth Hour 2019 to inspire awareness and action on why nature matters
Earth Hour 2019 switch-off will take place on Saturday 30 March at 8:30 pm

Emirates Nature-WWF will launch a series of engaging digital activations including 'Pass it On' on 17 March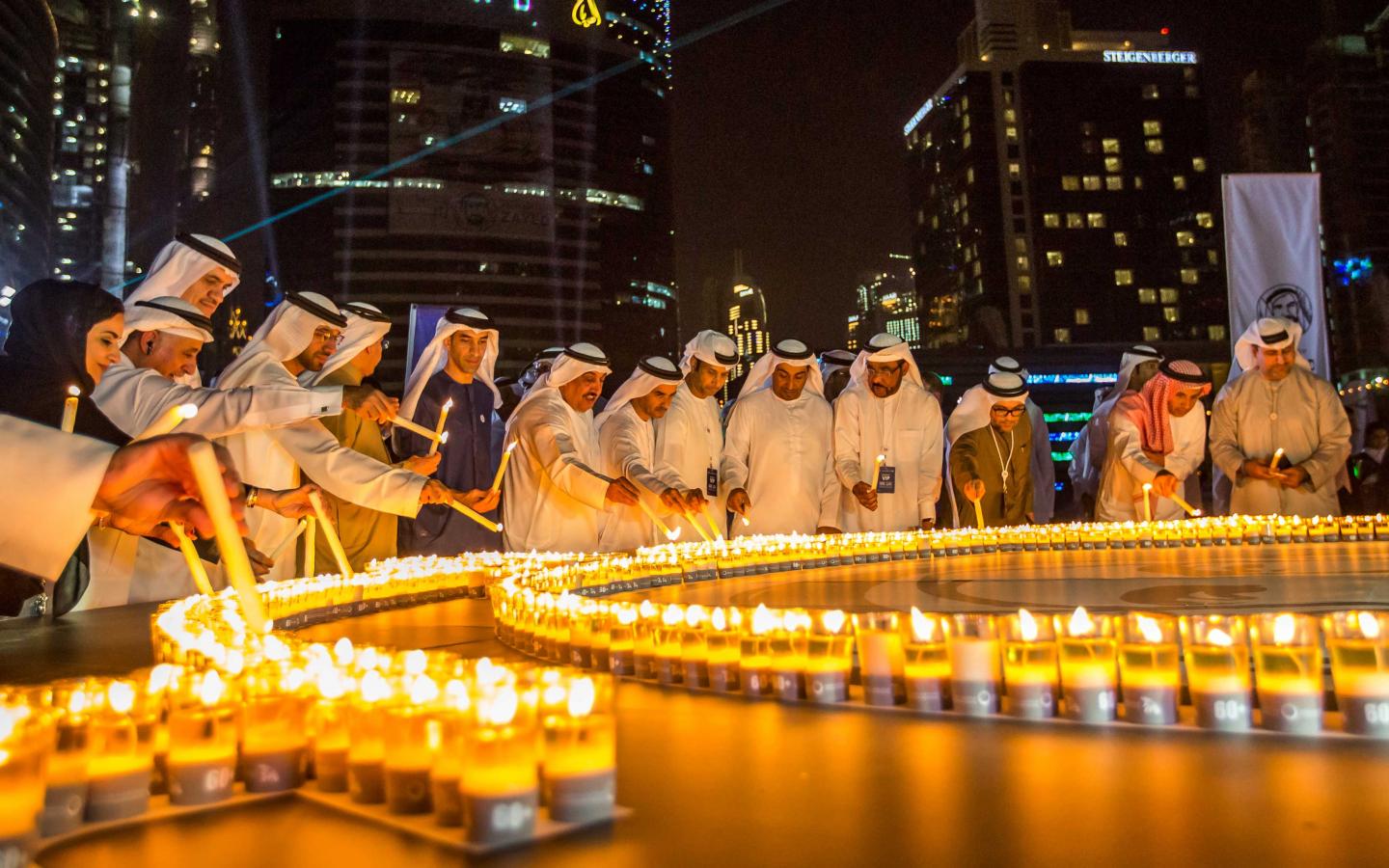 The countdown has begun as Emirates Nature-WWF invites the UAE community to celebrate Earth Hour 2019, the world's largest grassroots movement for the environment taking place on 30 March at 8:30 pm, inspiring millions of people to take action and show their commitment to the planet. As global biodiversity declines at an unprecedented rate, coupled with the ever-present challenge of climate change, Earth Hour 2019 will focus its efforts on raising awareness and inspiring action on conserving nature and biodiversity.
This year is set to be another record breaker, with more than 180 countries and territories coming together to highlight and encourage action on the environmental issues that are most relevant to them. In the UAE, Earth Hour will draw attention to nature loss and shed light on the importance of living sustainably, whether it's through the use of less plastic, less energy consumption, or conserving water – Emirates Nature-WWF is urging everyone to make a simple change to their everyday life that will help protect our planet.
Kicking off on 17 March, UAE residents can join the 'Pass it on' activation, which is set to launch on Instagram. Emirates Nature-WWF will kick off the activation by challenging individuals and organizations to take on a promise for the planet. These individuals and organizations will share their promise on Instagram and pass the baton on to friends, colleagues, partners or families. While the activation may seem small, the ripple effect that one promise can have is extraordinary. Going beyond the symbolic lights-out moment, Earth Hour 2019 presents an incredible opportunity for the UAE community to effect positive change for the planet by joining millions around the world to speak up on why nature matters and the urgent need to protect it.
"This is the 12th year in a row that Dubai Electricity and Water Authority has taken part in Earth Hour, under the guidance of His Highness Sheikh Mohammed bin Rashid Al Maktoum, Vice President and Prime Minister of the UAE and Ruler of Dubai, and His Highness Sheikh Hamdan bin Mohammed bin Rashid Al Maktoum, Crown Prince of Dubai and Chairman of the Executive Council of Dubai. This year's theme, 'Connect to Earth,' shows us working closely with Emirates Nature-WWF to invite people to come together and make their promises to live sustainably during Earth Hour. We support the efforts of the Dubai Clean Energy Strategy 2050 to generate 75% of Dubai's total power output from clean energy by 2050. Our leaders have stated the need to conserve and preserve our land for future generations, and to always remember that our environment is an integral part of our country. We hope that the public will take part in the exciting Earth Hour activities we are running at Business Bay in Dubai," said HE Saeed Mohammed Al Tayer, MD & CEO of DEWA. 
"In this year's UAE chapter of Earth Hour, we urge each and every resident to take part in this global initiative. We stress that now more than ever, we need to unite, connect to nature and stand together for the planet. Whether it is by being energy-efficient, eating less red meat, using public transport or choosing sustainable products, now is the time to adopt new habits," said Laila Mostafa Abdullatif, Director General of Emirates Nature-WWF.
"Over 80% of people who took part in Earth Hour last year felt inspired to do more to protect our planet. This year, there is no reason why we cannot make a promise to live more sustainably. Our late founding father Sheikh Zayed bin Sultan Al Nahyan's vision long preceded the present-day global conservationists' movement; he loved nature and wildlife and understood the importance of preserving every source we have from nature by putting it to productive use. Sheikh Zayed lived and died with the values of conservation close to his heart, and it is our duty to uphold his legacy every day and not just during Earth Hour," continued Abdullatif.
Highlighting the importance of Earth Hour, Taif Al Amiri, Director of Government Communication Department at the Ministry of Climate Change and Environment, said: "Celebrating Earth Hour is a symbolic act of solidarity with our planet. In addition to significantly reducing power use for one hour, the event goes a long way in raising public awareness about responsible consumption of resources to ensure their sustainability. Earth Hour contributes to addressing the immense threat of climate change through encouraging millions of people around the world to be more mindful about their energy consumption and come up with ways of slashing their carbon emissions to protect the planet we live on."
Earth Hour 2019 aims to mobilize individuals, businesses and governments to be a part of the conversation and solutions needed to build a healthy, sustainable future – and planet – for all. According to recent WWF research in 10 of the world's most biodiverse countries, only 40 percent of people associate the benefits of nature with necessities of life such as food, water and fresh air. In March 2019, Emirates Nature-WWF urges the UAE community to pledge allegiance to protecting the planet by making promises that go beyond Earth Hour. Supporters across the UAE can join the movement by visiting http://www.earthhour.ae/ to make their promise to the planet and start the movement for earth on social media by tagging @ews_wwf and using the hashtag #Connect2Earth. Join us to secure a healthy, sustainable and climate-resilient future by building new habits for change this Earth Hour.