08. February 2023 — Press Release
08.02.2023 — خبر صحفى
Environment Agency – Abu Dhabi (EAD) and Emirates Nature-WWF join hands to drive public participation in scientific research across the UAE
The programme named Sahim (meaning "contribute" in Arabic) is a comprehensive citizen science initiative in the UAE that allows the public to participate in scientific environmental research
Sahim aims to harness the power of community participation, which supports the national drive to utilise science in combating climate change and nature loss
The long-term vision of Sahim is to drive a new era of citizen-science in the UAE, which will contribute to environmental and conservation research, decision-making and setting policies and regulations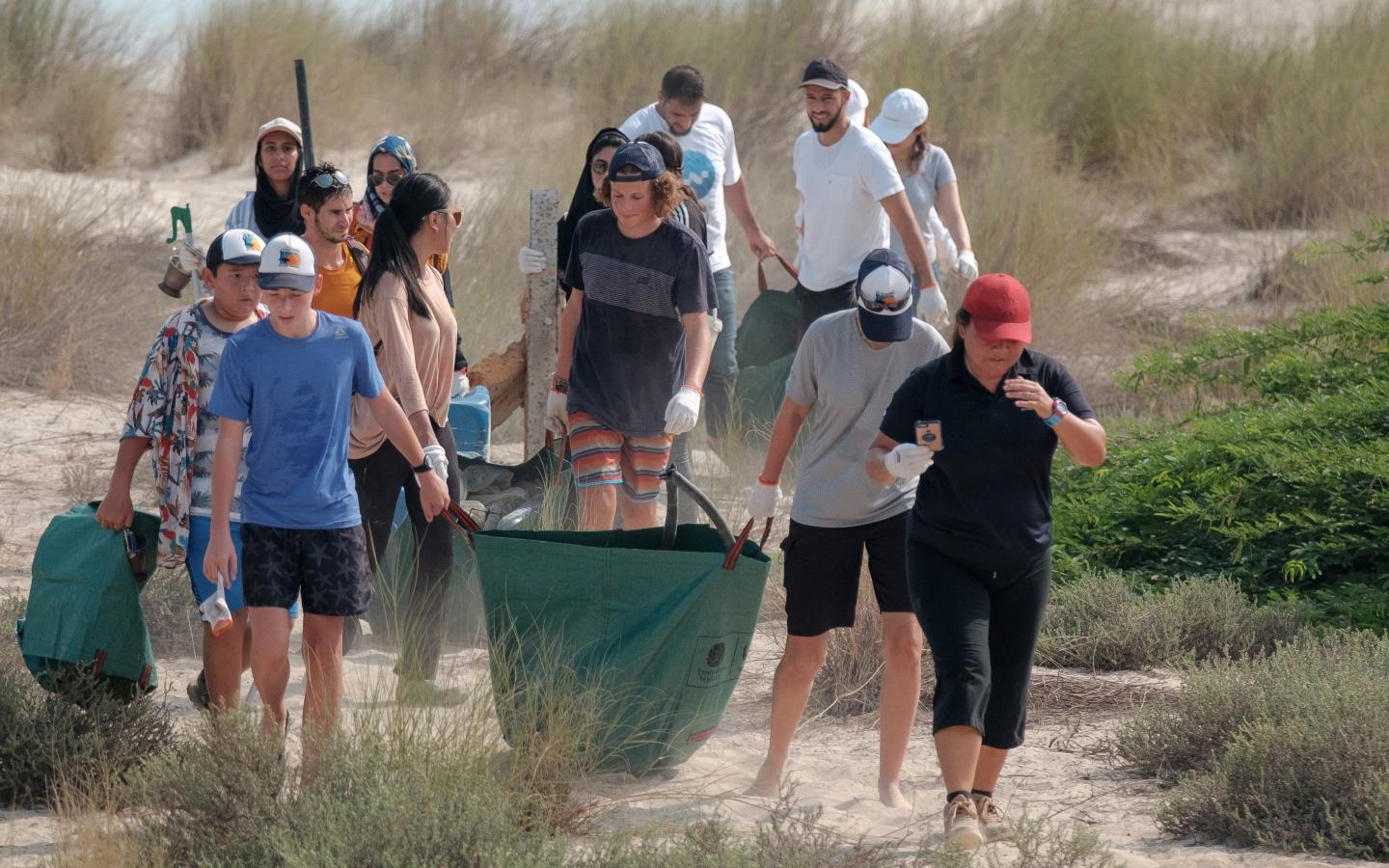 Abu Dhabi, United Arab Emirates, February 8,2023: The Environment Agency – Abu Dhabi (EAD) and Emirates Nature- WWF announced the launch of a comprehensive citizen science programme, under the name Sahim. The programme will engage volunteers and harness large-scale public participation in a series of projects that address real-world environmental problems, in ways that include formulating research questions, collecting and analysing data, interpreting results, and making new discoveries.
Citizen Science is a way to contribute to real science and act for the environment while learning something new directly from scientists. It brings everyone into the important work of learning more about and protecting our planet. Volunteers and scientists work together to answer real-world questions.
Sahim's approach serves the dual purpose of gathering useful data to support decision-making and the opportunity to engage the community in a meaningful way to participate in environmental causes they care about; therefore, translating awareness and advocacy into meaningful action with tangible and far-reaching impacts.
H.E. Dr Shaikha Salem Al Dhaheri, Secretary General, EAD, said: "EAD is delighted to extend its long-standing partnership with Emirates Nature-WWF to launch UAE's comprehensive citizen science programme. The value proposition for Sahim is clear and easily demonstrated; as an environmental regulator, we need to access large sets of data that inform our environmental policies, which we can expedite through the involvement of citizen scientists. Their contributions towards a diverse range of missions, including tracking waste and observing birds, marine animals, and other species will help us understand trends and act based on these insights."
"The UAE's leadership has announced environment and sustainability as key priorities for 2023, a critical year in a critical decade for climate action and biodiversity loss, as the nation sets the groundwork to meet 2050 net-zero goals and to host COP28 later this year. Scientific expertise and rigour are needed, and Sahim projects will support in filling knowledge gaps and collecting data to support robust environmental decision-making for the UAE." H.E. Dr Al Dhaheri concluded.
Laila Mostafa Abdullatif, Director General of Emirates Nature-WWF said: "Around the world, citizen science programmes have proven to be a diverse and scalable tool with a huge range of applications. Not only will these projects contribute to raising public knowledge of science, but also allow the community in the UAE to be part of the solutions to the dual threat of biodiversity loss and climate change. Participants will take an active role in advancing progress by participating in real scientific research–observing, gathering, and even analysing data,"
"In partnership with EAD, we will roll out several projects over the next 12 months. We encourage the entire community to join Sahim projects and be part of the study and protection of nature. You will generate invaluable insights through participation —giving back to the community and giving back to science — and even greater, you will learn more about the UAE's unique and diverse environment and help to conserve it, working alongside environmental specialists and scientists." Ms. Abdullatif concluded.
Enabling public participation in data gathering means a larger volume of valuable data can be collected, much of which can be conducted close to home, sometimes in backyards or even in living rooms and kitchens, with guidance from professional scientists and using established protocols and tools.
Citizen science brings everyone into the important work of exploring and protecting our planet. Volunteers and scientists work together to answer real-world questions. Key projects over the next 12 months, under the umbrella of Sahim, include:
Waste collection and analysis from marine, coastal or terrestrial sites
Using cameras to identify and monitor terrestrial wildlife
Monitoring mangrove forests and their associated species
Suaalif 'ajdadina Program which sees volunteers conduct interviews to gather oral history and traditional knowledge about the historical state of the environment in the UAE
People of all ages across the community – youth, parents, corporate and government employees – can volunteer on a diverse portfolio of projects, with rigorous citizen science principles, that contribute towards the UAE's environmental goals. The public can find out more by visiting https://connectwithnature.ae/sahim-x-citizen-science and detailed information on volunteering opportunities at environmental projects, under the umbrella of Sahim, will also be available through volunteers.ae