06. April 2023 — Press Release
06.04.2023 — خبر صحفى
Making waves for the planet at the Umm Al Quwain (UAQ) Marine Festival
Emirates Nature-WWF, part of the emirate's Sustainable Blue Economy (SBE) Strategy, showcased the strategy and inspired visitors to get involved.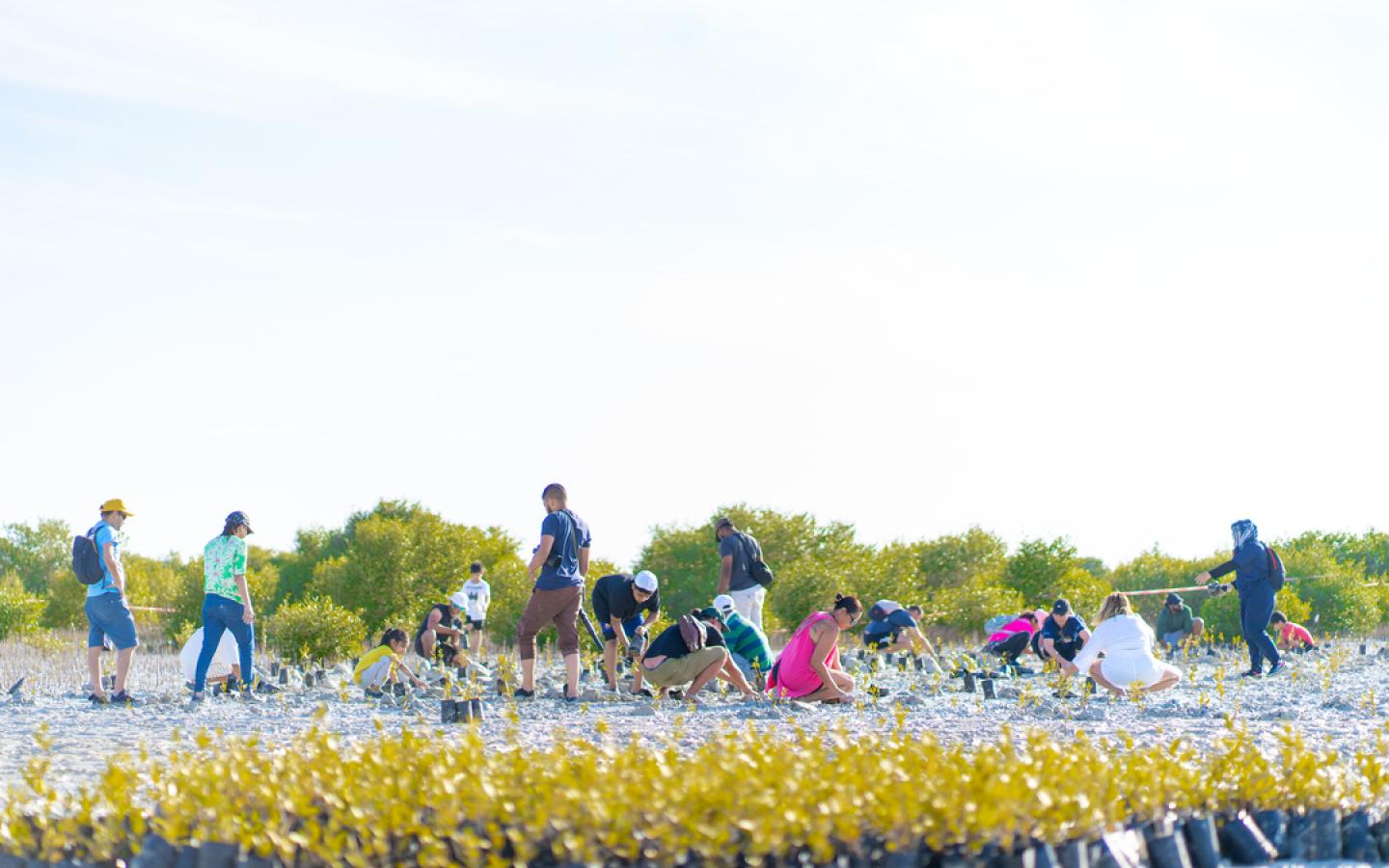 Emirates Nature-WWF proudly participated in the Umm Al Quwain Marine Festival, in partnership with the Government of Umm Al Quwain and the Sustainable Blue Economy Team, and shared information with maritime businesses, local communities, and other festival goers on how to protect and nurture fragile marine ecosystems for generations to come. 
Under the patronage of His Highness Sheikh Saud bin Rashid Al Mualla, Member of the Supreme Council and Ruler of Umm Al Quwain, the four-day festival (9-12 March 2023) celebrated fishing, marine sports and heritage in the region. The future of both depends on the resilience of our coasts and the wildlife that inhabit these areas.
The festival was also an excellent opportunity to showcase Umm Al Quwain's Sustainable Blue Economy Strategy, created to add value and highlight the benefit of the area's natural, cultural and human wealth with input from Emirates Nature-WWF throughout the development process and as part of the multi-stakeholder implementation team. Furthermore, the Nature-based Solutions project – funded by HSBC, and in partnership with the Ministry of Climate Change and Environment (MOCCAE), the Environment Agency – Abu Dhabi (EAD) and the International Center for Biosaline Agriculture (ICBA), is putting the strategy into action in various ways. These include protecting, restoring and managing the precious local coastal ecosystems – home to incredible biodiversity. The project is helping mitigate climate change impact and supporting maritime activities – including sustainable fisheries and tourism – in local communities.
"By putting Nature at the heart of the solution to climate change, we can improve people's wellbeing while boosting biodiversity," Marina Antonpoulou, Senior Director of Climate Change and Nature Conservation at Emirates Nature-WWF, said. "This approach is right at the core of addressing climate change as the United Arab Emirates gears up to host COP28 in November 2023."
Sharing solutions at the Umm Al Quwain Marine Festival
Every visitor to the festival had a connection to UAQ's marine ecosystem – from tourists to local business owners and employees. 
At the Sustainable Blue Economy Exhibition booth, Emirate Nature-WWF's scientists introduced the visitors to the incredible wildlife that thrives in UAQ's marine environment through footage recorded underwater. The scientists also presented new findings on the carbon stored in one of the two coastal seascapes the Nature-based Solution project covers, namely Khor Al Beidah. Umm Al Quwain's Sustainable Blue Economy Strategy was presented to the public during the festival, highlighting how preservation can create and sustain jobs. 
Every evening the booth hosted Majlis-style discussions where visitors shared their views and talked about practical solutions. Visitors went away with new perspectives on how nature benefits them and how they can support the seas.
Getting to know more about mangroves and protecting wildlife
In addition to learning about the local fauna and flora in Khor Al Beidah, visitors got the opportunity to protect and restore it by planting mangroves, which, when done with robust scientific research and care, is an example of a Nature-based Solution. 
Khor Al Beidah is renowned for its natural beauty and genetically diverse ecosystems. The area is also home to dense mangrove forests. These mangroves grow close to the sea and are vital for protecting communities from storms and erosion. They also house a myriad of unique and threatened species, including sharks, rays, turtles, and birds, as well as commercially important fish species. For example, the critically endangered Halavi guitarfish can only be found in our region! Protecting these iconic species sustains the balance of healthy ecosystems, thus supporting our economy, ecosystem services, food security and human well-being.
More than 200 volunteers from the UAQ community and all over the UAE put their scientist hats on to join our educational activities via our Leaders of Change programme, helping our team collect data and plant 14,000 mangrove saplings in Khor Al Beidah! Over six afternoons, from 16 to 21 March 2023, our volunteers got muddy counting crabs and spotting birds to assess how mangroves support local wildlife.
The activities helped volunteers understand more about the essential part mangroves play in conservation and culture. Activities like scavenger hunts brought the area to life as people found and tracked the footprints of native animals. Everyone also got the chance to add their name to a mangrove sapling, showing their commitment to nature and providing an opportunity to monitor future progress.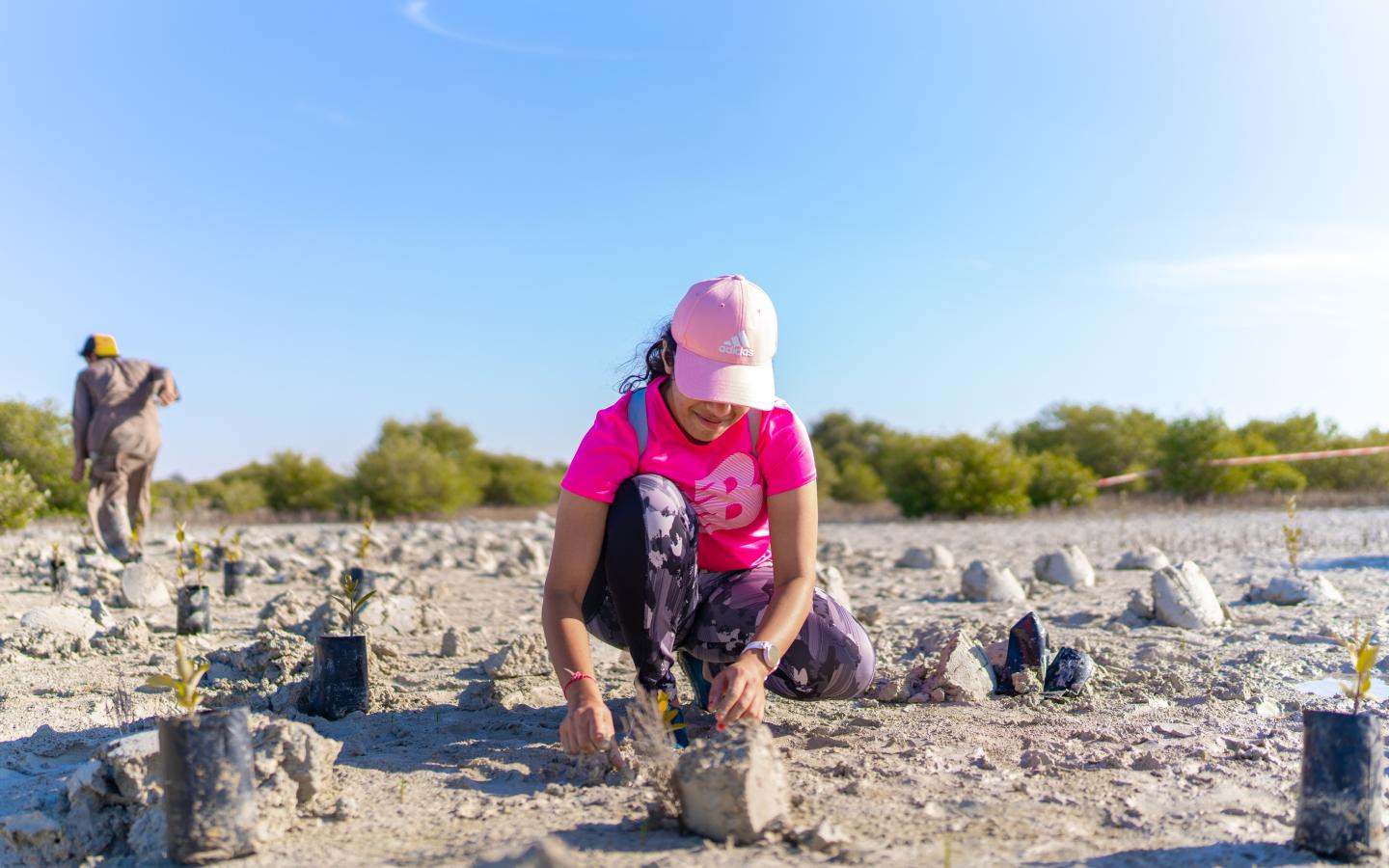 Working together for the future
This is just the start of the planet-positive work happening in the United Arab Emirates. When the country hosts COP28 the eyes of the world will be watching our progress. 
We are proud to work in partnership with such a variety of stakeholders to help power more Nature-based Solutions and make the marine environment a powerful ally against climate change.
Want to know more about Nature-based Solutions? Visit our dedicated website.