14. April 2022 — Press Release
14.04.2022 — خبر صحفى
Key Government and Corporate Officials honoured at VIP Event in EXPO 2020 as they Go Beyond the Hour with Emirates Nature-WWF's "Leaders of Change" programme
Emirates Nature-WWF is attempting to lay a new foundation for this Earth Hour and Earth Hours' to come, by challenging government and corporate stakeholders to go beyond the hour through their innovative flagship and impact-driven "Leaders of Change" programme.
The "Leaders of Change" programme in its pilot year has demonstrated tremendous success through its impactful milestones. As a result of the success, they honoured and awarded the initial cohort of the programme as well as Green Giving Conservation Partners who have supported local conservation projects, helping pave the way for the UAE to achieve its Net Zero and Nature Positive goals.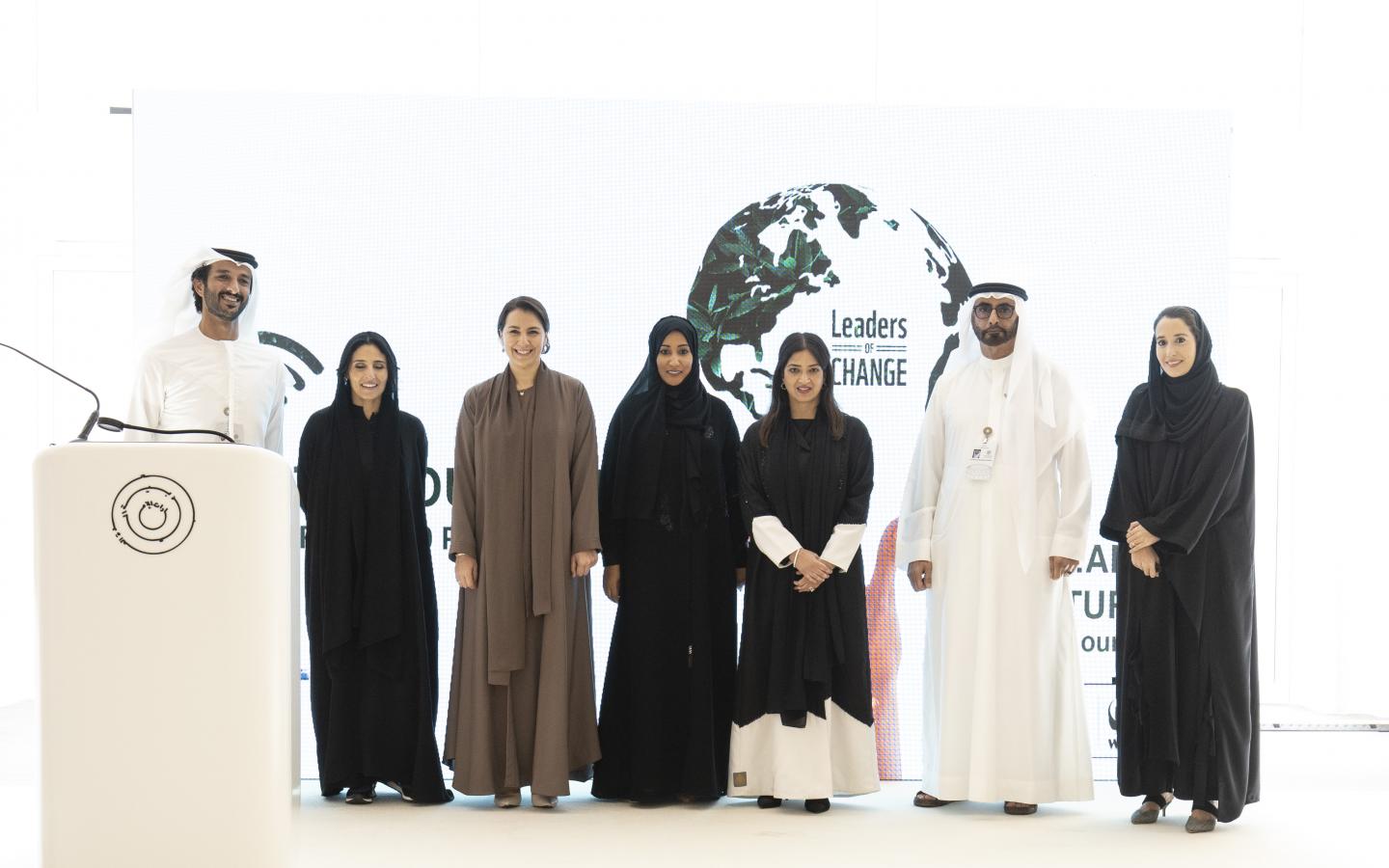 Dubai, March 24, 2022: Just days before the iconic global Earth Hour switch-off, Emirates Nature-WWF announces a more ambitious direction for the upcoming Earth Hour and future Earth Hours' to come. The new direction calls upon key government and corporates entities to 'Go Beyond the Hour'. As a means to move towards this new direction, Emirates Nature-WWF has hosted a first ever award ceremony to honour the initial cohort of their "Leaders of Change" pilot programme. They also honoured their Green Giving conservation partners who have committed to protecting the environment, championing conservation and preserving nature. These partners contribute in various ways towards Emirates Nature-WWF's organizational goals.
Several cabinet members and key ministers of the UAE and high-level government and corporate officials were in attendance at the closed-door event in the UAE Pavilion located at EXPO 2020.
Illuminating the "Beyond the Hour" campaign, leadership from Emirates Nature-WWF, along with Her Excellency Mariam Almheiri, Minister of Climate Change and Environment, spoke to invitees about the significance of this year's global Earth Hour activation. Emirates Nature-WWF's Director General Laila Mostafa Abdullatif said in her opening speech: "2022 brings us an unmissable opportunity to accelerate action for climate and nature, which have risen to the top of the global agenda like never before. It isn't just about conserving energy for one hour. Now, it is about the power of collective action." Discussing the Leaders of Change initiative, she added: "Together with our partners in the room, we are growing the UAE's movement for nature with a programme built on digital innovation and inclusive conservation. It is a platform that calls on thousands of government and corporate employees, individuals and youth and empowers them with the skills and the opportunity to help solve the environmental crisis through activities on the ground that are designed to have a measurable and transformative impact for the environment".
The VIP event was the first ceremony centered around Emirates Nature-WWF's "Leaders of Change" initiative, a pioneering programme to mobilize UAE society in a collective responsibility to overcome the climate and nature loss crisis. In what the organization intends to become an annual celebration, Emirates Nature-WWF awarded the individuals and organizations that have been instrumental in getting "Leaders of Change" off the ground and seeing through such a successful pilot year. These 'Pioneer Pledgers' have sponsored staff members and UAE youth towards the "Leaders of Change" membership programme, which comprises of academic and skills trainings, dialogues engagement, solution ideation, and excursion and mission participation in nature.
Closing the award ceremony, His Excellency Mohammed Al Bowardi, Minister of State for Defence and Chairman of Emirates Nature-WWF, noted the lead up to COP28, held here in the UAE, as a crucial time for the national environmental agenda. He called on the whole of UAE society to pledge to become Leaders of Change and celebrated its pioneer members, stating: "Our natural heritage is our national foundation. I commemorate all of you for the support to Emirates Nature-WWF as the pioneers of the Leaders of Change. Because of your commitment to our shared goals, we are building a legacy that future generations will be proud of – as proud as we are of what we have inherited. The world is watching our example, and I have utmost faith in what this nation will deliver."
In response to this call to action, Laila Mostafa Abdullatif, Director General, Emirates Nature-WWF noted that the achievements of the pilot year of the "Leaders of Change" programme such as: 1. collecting and analysing thousands of research observations, 2. building five kilometres of an eco-tourism nature and heritage trail in Fujairah; 3. conducting 267 hours of citizen science trainings and 4. recovering 184 kilograms of plastic waste, is setting a great precedence towards the national conservation agenda. "The success of the programme enables Emirates Nature-WWF to use the "Leaders of Change" programme as a case study to demonstrate how the UAE is achieving the Net Zero and Nature positive goals at the upcoming COP28".
This flagship programme is just one of the many initiatives that Emirates Nature-WWF has innovatively spearheaded with various other impact-driven projects in the pipeline.
Members of the public can sign up as 'Leaders of Change' volunteers via the website www.leadersofchange.ae. 
-ENDS-
Emirates Nature-WWF
Emirates Nature-WWF is a non-profit organisation established to conserve the United Arab Emirates' natural heritage and build a future where people and nature thrive. The organization was founded in 2001 under the patronage of H.H. Sheikh Hamdan bin Zayed Al Nahyan, the Ruler's Representative in the Al Dhafra Region and Chairman of the Governing Board of the Environment Agency‒Abu Dhabi, as a legacy of the late Sheikh Zayed's vision for the United Arab Emirates. For two decades, Emirates Nature–WWF has been a prominent and active partner in environmental conservation in the MENA region. We work in association with WWF, one of the world's largest and most respected independent conservation organisations. As a local conservation think-tank and pioneers of the "Leaders of Change" programme, the world's first-ever digital membership platform for the environment – we empower, convene and mobilize civil society, government entities and businesses to support the UAE's sustainability agenda and deliver transformative impact at scale for the benefit of people and planet alike. Learn more about the "Leaders of Change" programme at www.leadersofchange.ae and our various other projects at www.emiratesnaturewwf.ae. 
For media enquiries, contact:
Shannon Hynes / [email protected]