21. June 2023 — Press Release
21.06.2023 — خبر صحفى
UAE Alliance for Climate Action (UACA) announces new members at critical Road to COP28 event in Dubai
Collaboration amongst all sectors of society, especially non-state actors, highlighted as integral to achieving national net zero targets at recent Road to COP28 event organized by UN Climate Change High-Level Champions in Dubai

UACA applauds high interest and commitment to decarbonization shown by UAE businesses and organizations, and welcomes new members as it continues to

increase momentum and seek greater collaboration towards national net zero targets, in alignment with the UAE's climate action strategies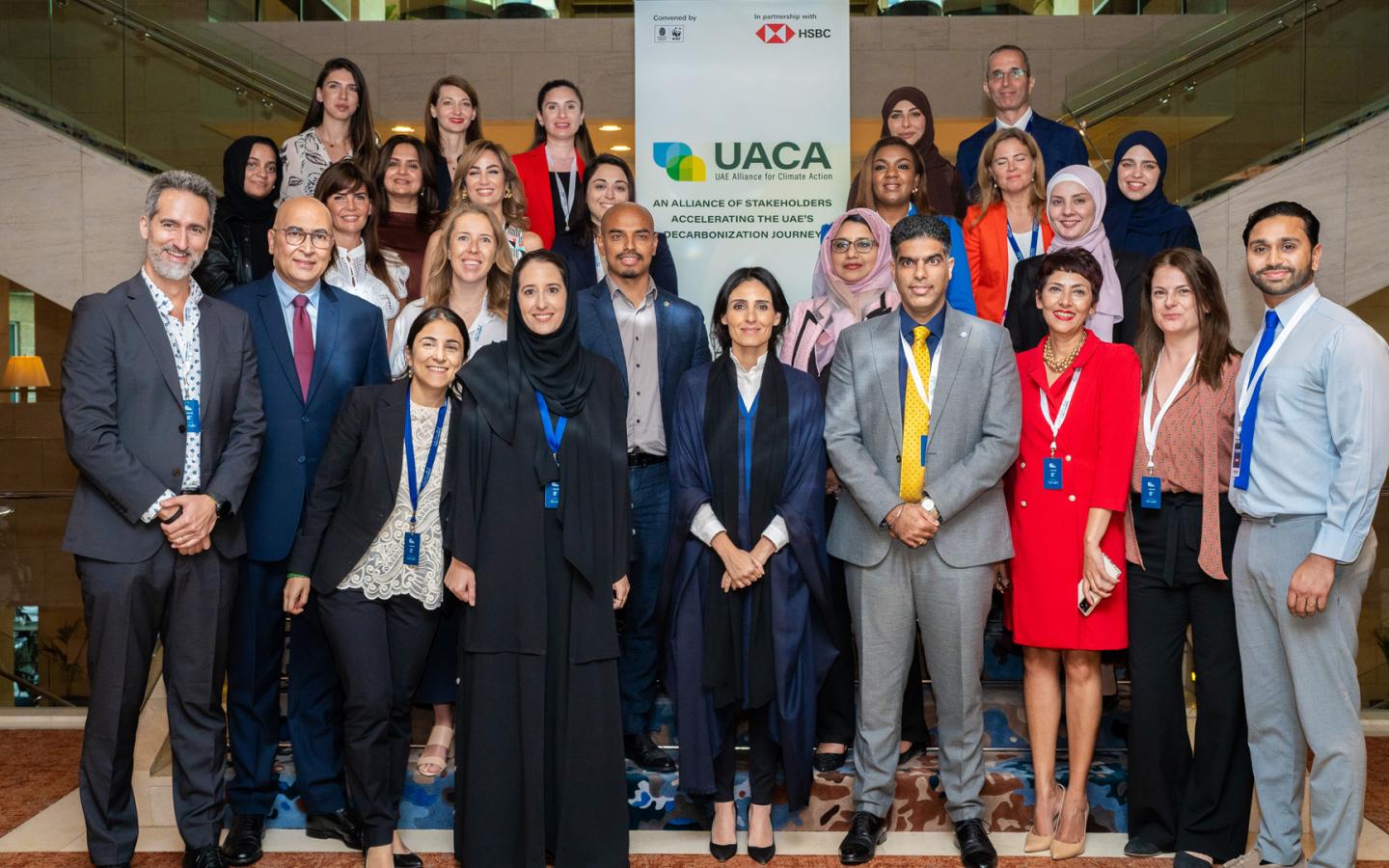 Dubai, 21 June 2023: The UAE Alliance for Climate Action (UACA), the flagship non-state actor programme for UAE, continues to gain crucial momentum for decarbonization in the lead up to COP28 and beyond. The alliance recently welcomed onboard new members from the private sector and academia: Sodexo, Majid Al Futtaim, Pure Harvest Smart Farms, Al Naboodah, Khalifa University, Arla Foods, Advanced Media Trading and Enviroserve, bringing its total membership to 27.
The newest additions join a rapidly expanding group of prominent non-state actors which include ALDAR, Alserkal Group, American University of Sharjah, Apparel Group, Aramex, Bureau Veritas Group Middle East, Chalhoub Group, Danone, Farnek Services LLC, Johnson Controls Middle East and Africa, HSBC, PepsiCo Positive (pep+) Middle East, Nestlé, Ras Al Khaimah Municipality Department, Serco, SirajPower, Sobha Realty, Talabat and Unilever.
The addition of new members strengthens the alliance and advances its mission of increasing momentum towards the UAE's Net Zero by 2050 strategic initiative, in line with science and the Paris Agreement. UACA members were invited to join the Road to COP28 event in Dubai, which was organized by the UN Climate Change High-Level Champions, to understand the vital role non-state actors play in supporting and actively contributing to climate and nature goals.
UACA supports members at every stage of their decarbonization journey, by providing tools, visibility and capacity building to set science-based targets and enable further ambition. In 2023, the alliance organized multiple workshops and webinars to enhance understanding around Science Based Targets (SBTi), Scope 3 Emissions, Greenhouse Gas Protocol, Change Management, and the High-Level Champions' campaign Race to Zero.
Endorsed by the UAE Ministry of Climate Change and Environment (MOCCAE) and convened by environmental non-profit organization Emirates Nature-WWF, UACA facilitates greater collaboration on enhancing the policy environment through one unified voice.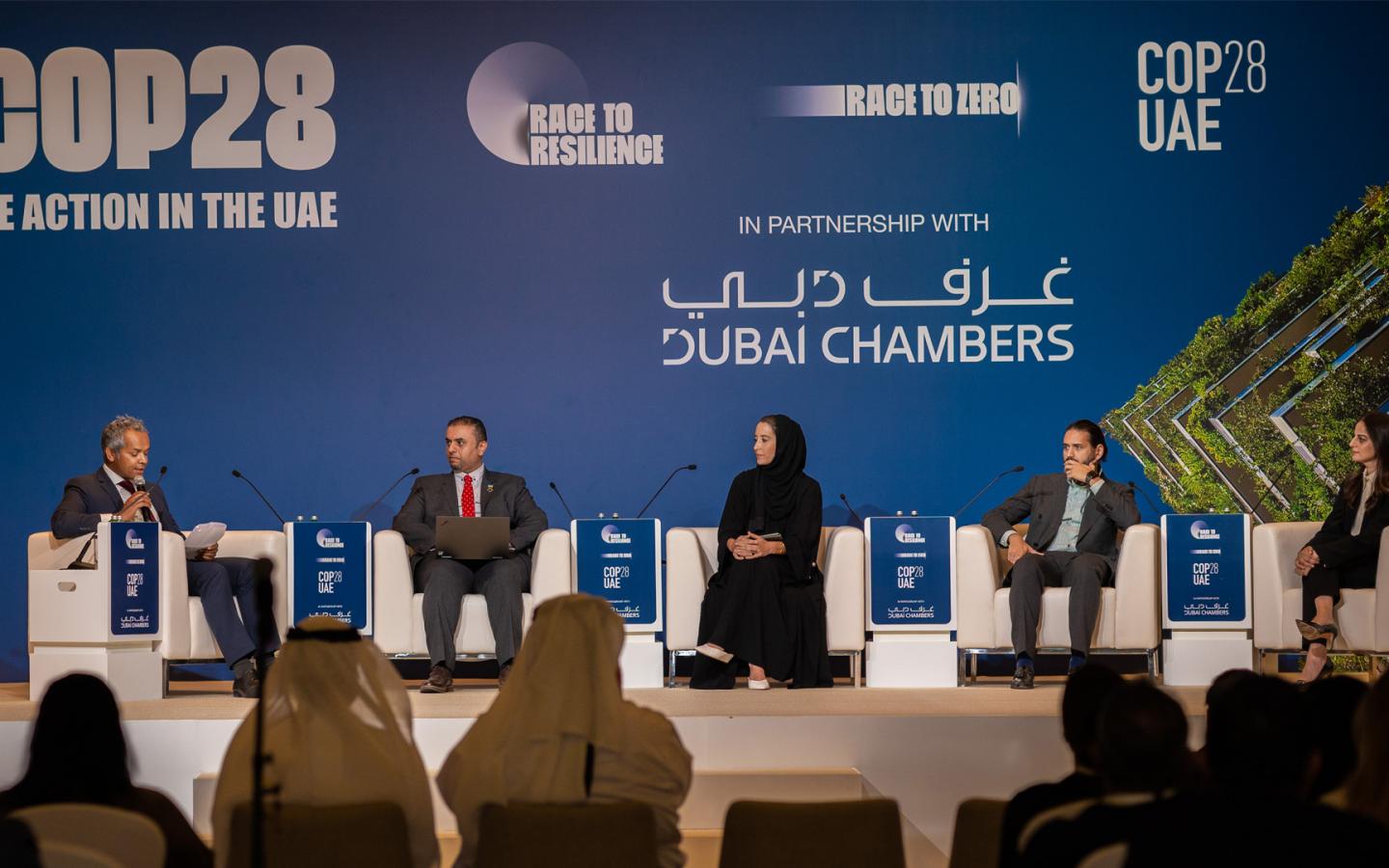 UACA is also an accelerator to the Race to Zero, the global campaign led by the High-Level Champions which rallies leadership and support from non-state actors to build momentum around decarbonization and commits members to halving emissions by 2030. The alliance was featured at the Road to COP28 event, demonstrating the importance of non-state actors in the UAE coming together to raise their ambition towards short-term and long-term net-zero targets that are aligned to the Paris Agreement and Science-Based Targets.
H.E. Razan Al Mubarak, the UN Climate Change High-Level Champion for COP28, noted that a whole of society approach is imperative if we are to successfully ramp up climate action and succeed in limiting global warming in accordance with the Paris Agreement. She highlighted the important role that local alliances like UACA play in bringing together non-state actors to help build capacity and foster collaboration which are both critical to accelerating climate action.
Laila Mostafa Abdullatif, Director General of Emirates Nature-WWF commended local efforts to support decarbonization: "We are excited by the growing interest for climate action shown by local non-state actors and warmly welcome our newest members to the UAE Alliance for Climate Action. A bottom-up approach has the power to accelerate the collective momentum needed to deliver UAE's vision for a net zero future. We are grateful to the High-Level Champions for creating pathways through which all of society can get involved, and look forward to achieving positive outcomes at COP28 and beyond."
With funding from HSBC MENAT, UACA was created in collaboration with the global Alliance for Climate Action (ACA) network, coordinated by WWF International, Carbon Disclosure Project (CDP) and C40 Cities Climate Leadership Group. Technical partners include the Clean Energy Business Council and the Boston Consulting Group.
Businesses and organizations interested in joining or funding UACA can visit www.uaca.ae