06. April 2021 — Press Release
06.04.2021 — خبر صحفى
Connect with Nature inspires, empowers and mentors young changemakers to actively shape the UAE's next 50 years
Over 10,000 UAE youth have engaged with nature through 225+ events since the inception of the initiative in 2019

1,900 UAE youth participated in virtual majlis discussions to discuss pressing environmental issues with key ministers of state and co-create the nation's vision for the next 50 years

50 UAE youth ambassadors and nature champions are being mentored and equipped with tools to support their growth as future leaders, changemakers and advocates for nature

Connect with Nature's success in bringing UAE youth closer to nature has inspired WWF Hong Kong – and soon more of Asia – to launch similar youth engagement initiatives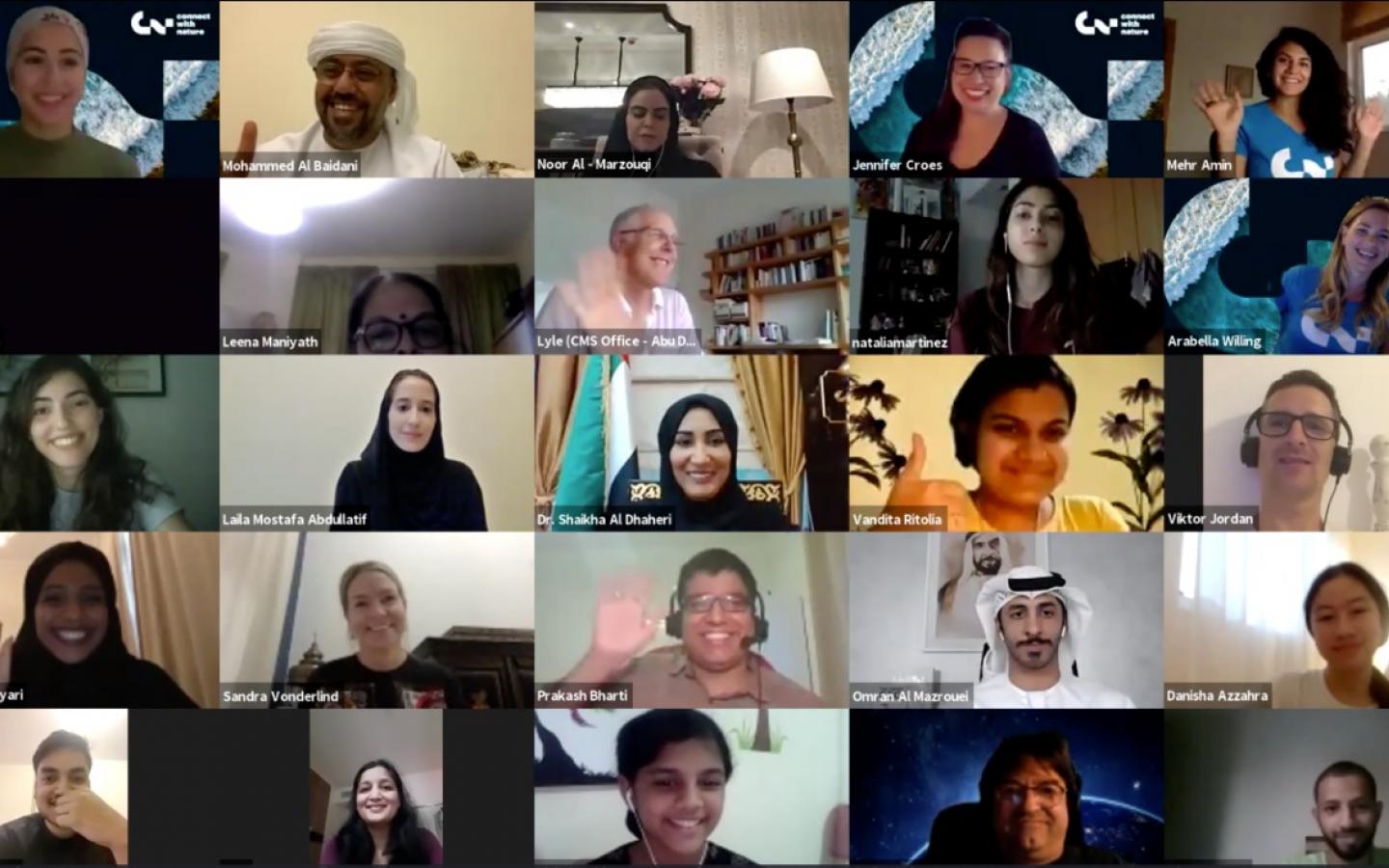 Abu Dhabi, 05 April, 2021 – The ongoing pandemic has bolstered UAE youth's appreciation of nature and their passion to protect the environment. Over numerous majlis discussions and events organized by Connect with Nature, UAE youth have reinforced their view that nature is a priority in the COVID-19 recovery and that they are eager to co-create the UAE's roadmap for the next 50 years.
Youth have a huge role to play in creating positive change in our communities and tackling the world's greatest environmental challenges as the leaders, governments and parents of the future.
Connect with Nature has engaged with UAE youth since the inception of the initiative in 2019 to harness youth's curiosity about our natural heritage and to equip youth with a platform and tools to actively co-create the future of the UAE. The initiative has proved exceptionally successful in bringing UAE youth closer to nature, whereby 86% of participants survey responded that that Connect with Nature has positively influenced the way they prioritize and value nature in their lives.
Co-founded by Emirates Nature–WWF and the Environment Agency–Abu Dhabi (EAD), Connect with Nature has engaged with over 10,000 UAE youth across 225+ events such as nature hikes, wetland exploration, upcycle workshops, beach clean-ups – and most recently, virtual majlis discussions, the UAE Ambassadors for Nature mentorship programme and the Nature Champions programme.
Connect with Nature has a bold vision for 2021 and beyond. The initiative will continue to evolve to reach more UAE youth and drive a bigger impact in its next phase, which positions volunteering at the core of its interactions as well as engagement with young changemakers.
In 2020, 1,900 UAE youth participated in the Reimagine Youth Circle Series of virtual majlis discussions with government leaders, academics and experts. During the series youth learned about pressing environmental issues and shared their views with the architects of the UAE's green recovery. Insights from these discussions are captured in a whitepaper written by youth, for youth. Hundreds of youth competed to become part of an intensive mentorship journey as one of 20 UAE Ambassadors for Nature.
Dr. Shaikha Salem Al Dhaheri, Secretary General at the Environment Agency-Abu Dhabi said: "UAE youth continue to impress us with their understanding of global environmental challenges coupled with their sense of responsibility for restoring the health of nature and our communities, and their dynamic optimism for the future. As we gear up for the next journey forward, it is vital that we continue to engage, inspire and involve today's youth in preparations for the UAE's next 50 years."
Laila Mostafa Abdullatif, Director-General at Emirates Nature-WWF said: "The ongoing pandemic has accelerated concern for the environment across all age groups and especially amongst UAE youth. Youth have been very clear that they want to see and be part of bringing about a green recovery in the UAE. Our vision is to reach 500,000 youth through Connect with Nature, bring them closer to nature and support their transition to become future leaders of sustainability."
Peter Cornthwaite, Chief Executive Officer, WWF-Hong Kong said: "Youth will play an instrumental role in our journey to achieve a green economic recovery. We have the responsibility to inspire the current and future generations to live sustainably and empower them with knowledge and skills required to make our society healthy and more resilient. We are inspired by the success of Connect with Nature in the UAE and look forward to engaging Hong Kong youth in our global endeavour to build a future where people and nature thrive."
ENDS
About Connect with Nature
Connect with Nature was developed through a founding partnership between Emirates Nature-WWF and The Environment Agency – Abu Dhabi (EAD). The programme aims to reconnect youth with nature through experiences and activities, equip them with knowledge and skills to make informed decisions, and to become leaders of the community in creating a sustainable future. For more information, please visit www.connectwithnature.ae
About Emirates Nature-WWF
Emirates Nature-WWF is a non-profit organisation established to conserve the United Arab Emirates' natural heritage and build a future where people and nature thrive. The organization was founded in 2001 under the patronage of H.H. Sheikh Hamdan bin Zayed Al Nahyan, the Ruler's Representative in the Al Dhafra Region and Chairman of the Governing Board of the Environment Agency‒Abu Dhabi, as a legacy of the late Sheikh Zayed's vision for the United Arab Emirates.
For two decades, Emirates Nature–WWF has been a prominent and active partner in environmental conservation in the MENA region. We work in association with WWF, one of the world's largest and most respected independent conservation organisations.
As a local conservation think tank and volunteer platform, we empower, convene and mobilise civil society, government and business to support the UAE's sustainability agenda and deliver transformative impact at scale for the benefit of people and planet alike. For more information, please visit emiratesnaturewwf.ae
About Environment Agency - Abu Dhabi:
Established in 1996, the Environment Agency - Abu Dhabi (EAD) is committed to protecting and enhancing air quality, groundwater, as well as the biodiversity of our desert and marine ecosystem. By partnering with other government entities, the private sector, NGOs and global environmental agencies, we embrace international best practice, innovation and hard work to institute effective policy measures. We seek to raise environmental awareness, facilitate sustainable development and ensure environmental issues remain one of the top priorities of our national agenda.