02. November 2021 — Press Release
02.11.2021 — خبر صحفى
Emirates Nature-WWF joins Mastercard's Priceless Planet Coalition to conserve and restore mangrove ecosystem in the UAE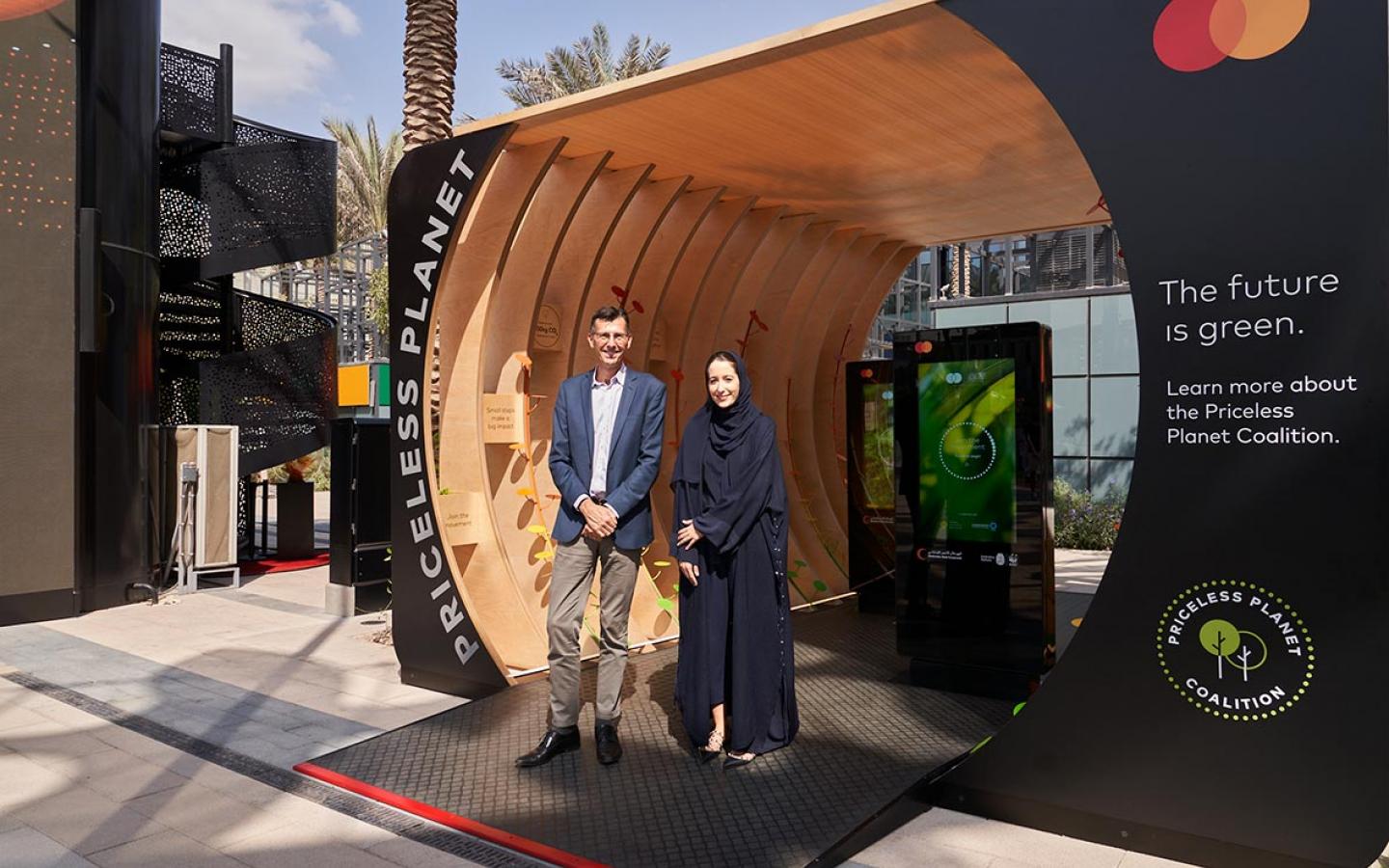 November 1, 2021, | Dubai, UAE: Mastercard has partnered with Emirates Nature-WWF as an implementation partner for Priceless Planet Coalition in the UAE. Our joint goal is to support mangrove restoration and conservation efforts in the UAE with the goal to enhance these precious ecosystems and the multiple benefits we receive from them. The project will implement an ecosystem-based approach to restore and protect mangrove habitats and surrounding coastal ecosystems.
With an area of over 150 km2, the UAE enjoys the largest mangrove coverage in the region. The restoration of mangrove ecosystems is an effective action to enhance CO2 sequestration and storage, and ultimately support ongoing efforts on climate change mitigation and adaptation.
Consumer donations will contribute to the Priceless Planet Coalition which applies a restoration model focused on re-growing forests in geographies with great potential for a positive climate, community and biodiversity impact. This strategic project will look to fund two years of active mangrove restoration in the UAE and four years of extended monitoring and evaluation to maximize survival rates and overall restoration success.
The project aims to restore 50,000 mangroves, equivalent to an area of10 hectares, in at least one priority coastal area within the UAE. Science-based restoration activities will ensure the long-term restoration success of the project by carefully selecting the site and restoration strategies. The project will be implemented in partnership with environmental authorities and communities and will aim to raise awareness on the importance of mangrove and coastal ecosystems benefiting human wellbeing.
"Mangroves are integral to the UAE's wildlife and nature reserves and their protection is a priority. The country's mangrove ecosystem will play a key role in our global goal to plant and restore 100 million trees by 2025 through the Priceless Planet Coalition. We continue to welcome members that are as passionate as we are about sustainability and are proud to announce that Emirates Nature-WWF will help us in rolling out our efforts across mangrove reserves in the country. Thanks to our partners including Expo 2020 Dubai and Emirates NBD, we are proud to invite community members in the UAE to join forces in our coalition and create collective action for our planet," said Jorn Lambert, Chief Digital Officer, Mastercard.
''We are delighted to join hands with Mastercard and other respected partners, on the Priceless Planet Coalition, an ambitious initiative which aims to complement the UAE's efforts on biodiversity conservation and restoration. Mangrove forests are critical ecosystems, both for biodiversity and for humanity – they are essential to our wellbeing and our economies as they can enhance our efforts to address climate change, offer opportunities for tourism and recreation, help us replenish declining fish stocks, as well as protect our cities and infrastructure from storms and sea level rise. Vast mangrove areas have been lost globally, but things are changing. I am encouraged to see concerns about nature loss growing across all sectors of society and believe that now is the time to double down on our efforts, forge deeper and broader partnerships than ever before, and drive action'', commented Laila Mostafa Abdullatif, Director General of Emirates Nature-WWF.
"Emirates Nature-WWF is committed to safeguarding the UAE's natural heritage by implementing science-based actions on the ground while working with government, private entities and communities to drive transformative action at scale. We are focused on resetting society's compass on nature towards respect and sustainable use. The race is on for an equitable, net-zero emissions and nature-positive future for all", she continued.
As a payments technology company with a mission to build a more inclusive, sustainable world, Mastercard continues to be a strong advocate for environmental stewardship, and this is highlighted in its Annual Sustainability Report. Since its launch, the Priceless Planet Coalition now has more than 80 partners. The company also unveiled an acceleration of its net zero timeline by a decade, from 2050 to 2040, building on existing commitments to reduce greenhouse gas emissions aligned with 1.5-degrees Celsius. Furthermore, it also issued a $600 million sustainability bond to support carbon reduction, supporting environmental choices for customers, and fostering inclusive growth.
In addition, the payments leader continues to offer environmentally focused products and services, such as cards made from sustainable materials to reduce plastic waste, and so far it has exceeded 10 million cards made from approved sustainable materials using Mastercard's Sustainable Card Materials Directory.