24. October 2018 — Press Release
24.10.2018 — خبر صحفى
Nature Matters – Coastal and Marine Wetlands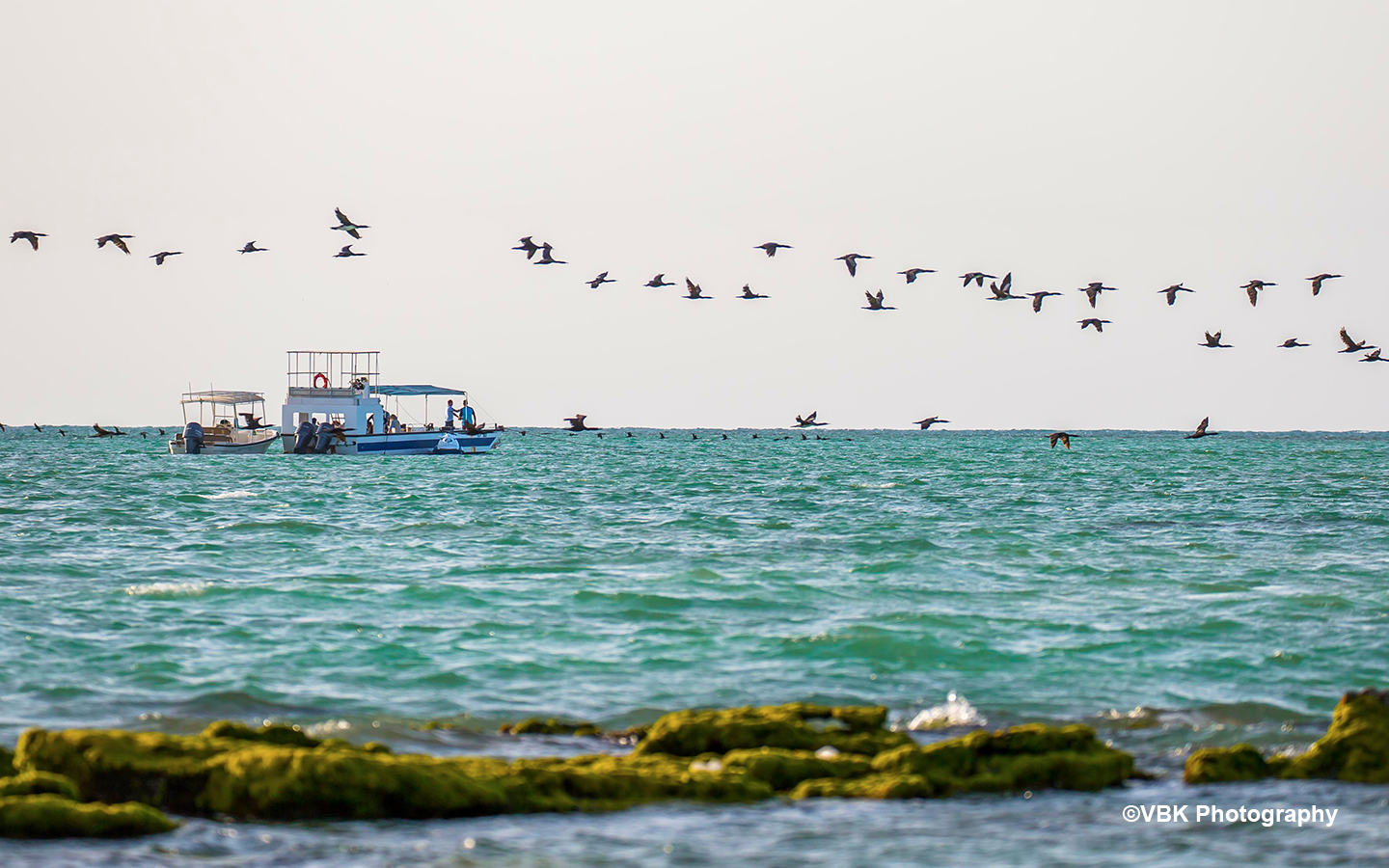 Nature is our life support system
Nature is our life support system. Our health, food and security depend on it - from medical treatments to food production - nature is critical to life as we know it today.  
Our economic activity also ultimately depends on nature. It's estimated that, globally, nature provides services worth around US$125 trillion a year.
Natural systems are not only land and its rich biodiversity, but also marine and coastal ecosystems - fundamental to life, underpinning economies and businesses, and sustaining the livelihoods and well-being of over a billion people worldwide.
These issues are being brought into sharp focus this week as the UAE government hosts the 13th Meeting of the Conference of the Contracting Parties to the Ramsar Convention on Wetlands (COP13). This Convention provides the framework for national action and international cooperation for the conservation and wise use of wetlands and their resources.
And, as fitting for the 'country host' of such an important international event, the UAE's natural environment will take centre-stage on a number of issues. Fundamental to them all, however, will be the notion that healthy coastal, marine and terrestrial wetlands are critical to human livelihoods and sustainable development globally and locally. 
In the UAE, we currently host 7 Ramsar Sites, out of which 4 are natural coastal areas, but what makes coastal and marine wetlands globally and locally so important?
They support the fight against climate change
Wetlands have a significant role to play in slowing and also adapting to climate change. The latest findings, published earlier this month in the Inter-governmental Panel on Climate Change (IPCC) report, sound an alarm that urgent action is needed to promote, conserve and restore these areas. In his speech at the opening ceremony of Ramsar COP13, H.E. Dr. Thani Al Zayoodi, the Minister of Climate Change and Environment, recognised the role of wetlands in climate change mitigation and adaptation and stated the importance of integrating their conservation and management into wider policies on climate change and the green economy agenda.
They provide protection and subsistence
Wetlands ecosystems like coral reefs, mangroves are also important for fisheries and fish nurseries, which provide people with a key source of protein as well as livelihoods. Coastal wetlands also provide a physical protection against coastal erosion and storm damage.
They are significant to our cultural identity
The UAE in particular, has a close relationship with its coastal marine environment with pearl diving and seaborne trade playing such a significant role in our recent history. These cultural links are something we can't forget. Our grandfathers used corals for medicine, jewellery and trade.
They are vital to the economy
But as well as our past, our future, and that of our children and grandchildren, is also dependent on a healthy and functioning marine environment, with the tourism and fishing industries, just two examples of industries at risk if we fail to manage our natural resources wisely. 
Our marine and coastal wetlands are under threat
The UAE has a rich and bio-diverse, natural coastal marine environment, ranging from coral reefs, to mangroves, saltmarshes, coastal salt flats (sabkhas) and seagrass meadows. But these areas are severely threatened. At the Ramsar Convention this week, a number of reports will be launched which document the threats facing coastal and marine wetlands globally, including:
17% of 66 species of mangroves assessed are globally threatened

33% of 704 species of corals assessed are globally threatened

The world has already lost about half of its shallow water corals in only thirty years.

Harvesting and aquaculture have led to decline in mangroves worldwide by 30 to 50 per cent over the past fifty years.
And locally in the UAE we are not immune to these global trends, for example, with 20% of the world's oil passing through the Gulf daily, the disturbance to coral reefs and unintended consequences of accident or misadventure must be carefully managed. Unplanned coastal development can also have devastating effects on our natural heritage. Additionally, over-exploitation of marine resources through excessive fisheries activity provides plenty for the current generation but robs future generations of their birthright and natural heritage.
These and other pressing issues will be explored at this week's Ramsar Convention, where the UAE government and the Ramsar secretariat has assembled the best and brightest minds in wetland management, both local and internationally.  Here discussion and plans for action will be our guiding light for future action, to ensure we preserve our precious and life sustaining coastal, marine and terrestrial wetlands.
Our wetlands need you
However, we are all responsible to ensure these carefully developed plans are enacted. We all have a part to play: our Government agencies to implement the vision of our Leadership to the highest of global environmental standards, organizations like Emirates Nature-WWF to assist in providing the technical and science based solutions as well as creating awareness and providing environmental education in society, our industry and businesses to evolve their operations and become more sustainable; and finally the community, to rethink our lifestyles so that we can preserve the natural assets that we have been blessed with for future generations to come.